By PWE_BranFlakes @ July 17, 2012 at 12:08pm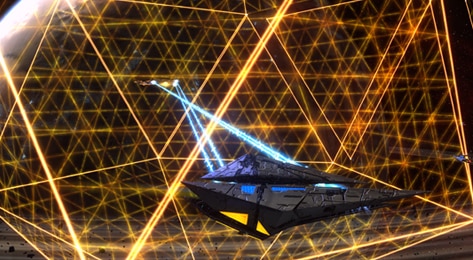 This galaxy is a dangerous place. There are few regions where this fact is more evident than the outer boundaries of the Klingon Empire. And yet it is amidst the existing turmoil of endless border skirmishes and honor feuds that the mysterious and xenophobic Tholians have decided to make their latest aggressive push to expand their own borders. The fighting in the Nukara system has been intense, and the troops of the Tholian Assembly appear to be practically endless despite the best efforts of both Starfleet and the Klingon Defense Force.
Even though the outlook of continuing a ground war against an entrenched enemy is bleak, victories have been won by both factions and there is still hope. And on many of these smoldering battlefields, swarms of scavengers, brokers and black market privateers have managed to make the most of this war by obtaining many priceless pieces of Tholian and Mirror Universe technology and offering them up to the galaxy at large in return for their modest finder fees.
Naturally, when such a tempting series of business propositions presented themselves, the Lobi Crystal Consortium had to be the first on the block to try and squeeze a little latinum from the chaos. Through their extensive network of merchandisers, the ingenious Ferengi have quickly and carefully managed to snag nearly every piece of Tholian and Mirror Universe technology filtering in from Nukara and other Tholian skirmishes, and have begun seeding their wares throughout the known galaxy.

——————–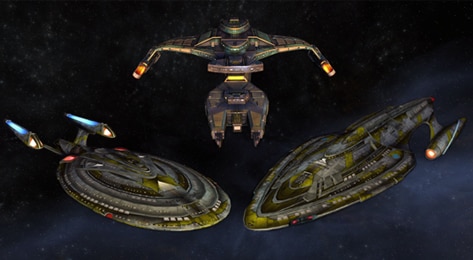 The Tholian Lock Box represents a culmination of our ever-growing understanding of the Lock Box mechanics place in a Free-to-Play MMORPG, as well as an attempt to address much of the feedback that has been received since our first Lock Box went live in the Holiday season of 2011. Along the way, we've learned valuable lessons that have driven us to continually re-examine how we can deliver an enjoyable and rewarding experience to our players.
What that really comes down to is fairly simple: The prize must be worth the investment. For the price of 125 Zen, players opening a Lock Box must feel like they received an exciting and worthwhile reward.
One of the biggest ways in which we've learned to address this is by speaking to the one prize that nearly all of our players covet the most highly: More ships! The Tholian Lock Box not only offers the sleek and stylish Tholian Orb Weaver as its rare grand prize, but players that are not fortunate enough to receive it still have a chance at receiving an impressive Mirror Universe ship variant. These unique Star Cruiser (Fed), Assault Cruiser (Fed) and Vor'cha Battle Cruiser (KDF) variants will offer different bridge officer slotting and console slotting than their "Prime Universe" counterparts, as well as offering unique visuals not otherwise available for player ships. And on top of that, the odds of receiving these Mirror Universe starships are far higher than any lock box ship odds have ever been before!
We're also packing two of the most highly sought-after Cross-Faction Consoles into this box, by offering Federation players the chance to get the Subspace Jump console while Klingon Empire players can finally obtain a Point Defense System of their own.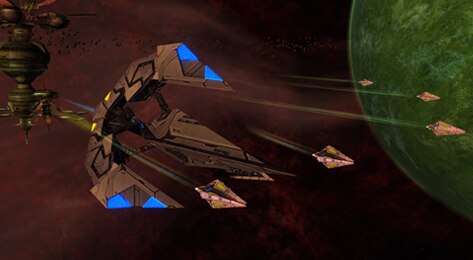 In keeping with the theme of Tholians, and building upon our past tradition of offering very rare, handcrafted Duty Officers in our Lock Boxes, there will be a chance to gain one of six unique Warfare Specialist Duty Officers, all of whom are members of the Tholian species willingly serving aboard Federation and KDF starships in defiance of the Tholian Assembly. Each Warfare Specialist will improve a player's damage bonus when fighting a specific enemy, either in Space or on the Ground. While only one of these can be slotted at a time, keeping them all in your roster may prove invaluable now that a wide array of antagonists will soon be assaulting Player Starbases on a regular basis.
And how about those Starbases? Ever feel like your contributions to Fleet Projects could be rewarded at a slightly higher rate? The Tholian Lock Box can include an all new Fleet Credit Boost item that will improve your Fleet Credit earnings by 20% until they have depleted their bonus pools. There will be both a 25,000 and a 5,000 pool offered, so save up your Fleet Marks to get the most out of contributing to the advancement of your Starbase.
In the interest of assisting players with defending their Starbases, as well as driving back their enemies in other conflicts across the galaxy, the Tholian Lock Box is coming fully stocked with Very Rare quality (Purple) weaponry that is likely to improve the arsenal of most Captains, their ships and their crew. This new Phased Tetryon Weaponry is available in nearly all variants of both Space and Ground weaponry, and combines the effects of both Phaser and Tetryon energy types into a single lethal package, in addition to their basic bonuses. And again, in the interest of ensuring that our players feel rewarded, Vice Admirals and Lieutenant Generals will have a chance at receiving Mk XII weaponry when opening a Phased Tetryon Weapon pack.
Tholian Lock Boxes will also contain a chance at getting your hands on the Gamma Quadrant Duty Officers that were recently retired from our store. The mini-packs contained in this box will offer the fully range of species, specializations and trait variants that were previously available. A Standard Duty Officer Mini-Pack will also be offered as a low-tier prize in the Tholian Lock Box. Both of these packs contain four (4) Duty Officers: one green-or-better, and three white-or-better.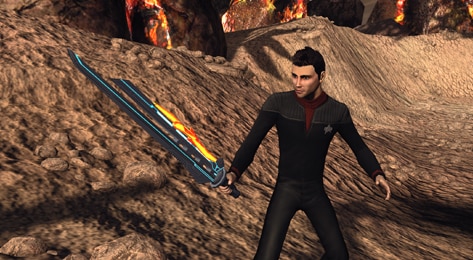 And lastly, we come to Lobi Crystals. Our intention with the Lobi Crystal Store has always been to offer players a second chance at receiving a worthwhile prize from their Lock Box purchases. Didn't get the ship you were after? Well, at least you've got enough Lobi Crystals from your investment to get yourself a nice item or two from the nearby vendor.
Rewarding players for their investment on the Lobi Store obviously means offering better items on this store. A few examples of this are a Tholian Crystalline Sword that can absorb incoming energy in order to deal extra damage, a new Tholian Silk Scarf (wearable by both factions), a selection of Arachnid Vanity Pets, a flyable Tholian Widow Fighter, and even a beastly Tholian Recluse Carrier that players will have the opportunity to fly into battle.
For the more casual Lobi consumer, we've also added several low-cost consumable items for as little as ONE (1) Lobi Crystal apiece. Among these low-cost consumables are a number of Tholian-inspired items, including Radiation Resistance Hypos to reduce the damage taken by Tholian ground weaponry and Acoustic Amplication Circuits that will allow any ranged weapon to deal a small amount of Sonic Damage for a short amount of time. Several other personal and team-based consumables are available, and each can be purchased in bulk for your convenience.
But we didn't stop at just making great new rewards available for purchase! In order to allow players the opportunity to more easily obtain worthwhile prizes from the Lobi Crystal Store, we've doubled the low-tier Lobi Crystal prize. Every Tholian Chance Box will contain a minimum of FOUR Lobi Crystal. When you combine that increase in rewards with the low-price consumables mentioned above, the average purchasing power gained by opening a Tholian Lock Box has significantly increased.
We honestly feel as though this Lock Box's offerings will be seen as the most rewarding to date, allowing players to view the experience of receiving and opening them with the joy and excitement that the system was always intended to engender.
Read more about the new Tholian Lock Box and Lobi ships in Season 6 Dev Blog #14, and check out our new FAQ here.