By PWE_BranFlakes @ October 18, 2012 at 12:00pm
Azure Nebula Rescue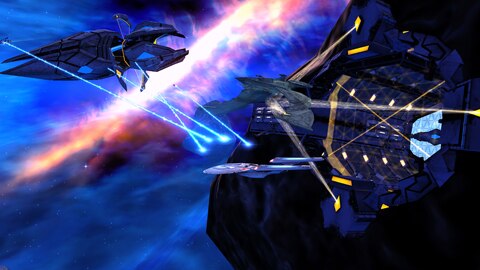 A number of Romulan ships have gone missing in the vicinity of the Azure Nebula, and the Romulans have asked for assistance in locating them. The density of the Nebula renders long-range sensors ineffective, but an encrypted message from one of the captured ships indicates that the Tholians have constructed several bases in the Nebula – they are most likely using them as a staging area to launch a full-scale invasion.
In the Azure Nebula Rescue event, players attempt to rescue as many Romulan ships as possible from the Tholians within a set time limit. To do so, they must disable four tractor beams holding a captured ship in place. Rescuing larger ships will net more points, but they are protected by stronger enemies. Any Vice Admiral or Lieutenant General can participate in this event and rewards are based on how many ships are rescued and how valuable the ships are.
In addition to a modest Fleet Mark reward, players are also rewarded with Romulan Marks, which are used in our new Reputation system (look for another Dev Blog on this system in the near future).
To participate, use the PvE Queue to join either a public or private queue. Azure Nebula Rescue is a space event that is always available, but if you play during certain hourly events (calendar updates to be announced at a later date), you will earn even more rewards. It is also a cross-faction event that is targeted at 5-person groups. You must be a Vice Admiral or Lieutenant General to participate.
We'll see you in-game and in the queues for Azure Nebula Rescue when it launches with Season 7!
Jaddua Ross
Content Designer
Star Trek Online