By admin @ September 29, 2011 at 9:37pm

Finding Your Next Mission
One piece of feedback we frequently received from Star Trek Online players is that it was often hard for players to answer the question, "What do I do next?" A player might find a bevy of Admirals wanting their attention, plus numerous places to explore around the galaxy, but what should the player really be doing?
We took a serious look at how players actually played and then we went about making some improvements. Today, the first set of these improvements makes its way to the Tribble public test shard.
The highlight of many changes is the all new front page for the mission journal, which is designed to make it really clear what you should do next.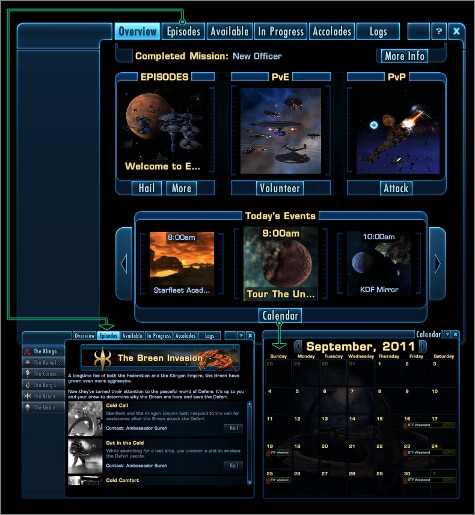 In the top area, you will see your current mission and have a fast way to jump to your status. If this mission is ready to turn in, you will now see a reminder line there and a button to take you right where you need to go.
On the left is the next episode you should be doing, if you want to continue the game's main story line. Most of the episodes in the game have been threaded together into a sequence that gets you through the story of the game in a way that doesn't require players to go searching around through screens full of Admirals to find a mission to do.
In the middle is a "PvE" link that will take you to where you can sign up for queued content that involves getting a team together to go do a team mission. On the right is a link that will take you to where you can sign up for queued PvP content.
Below that is a new display of the current events going on in the game. We'll be posting more about events later, but we're sure that once you see what we're doing for event content, you'll really like this quick way to see what is happening right now that you can jump into.
This week, you'll only have access to the Federation content on Tribble, and we hope you enjoy the new mission journal UI and the new feel of playing through the Federation content. If you're paying attention, you'll also notice that we sped up the leveling curve at the lower levels, so you'll be level 11 before you know it!
As a bonus, within the three weeks following when the F2P build is live, we'll be giving out awards to your character on Holodeck based on what you accomplished on Tribble. If you get a Federation character from start to level 11, we'll give you a free 8 hour XP boost item. If you get to level 31, we'll give you a reasonably large chunk of dilithium (exactly how much depends a bit on how the economy tunes up in testing, but this will be a meaningful award). And if you get a character to level 51, we'll give you a bonus ship slot and a unique title that only the most elite Tribblers will have. This award only applies to Federation characters that freshly started on Tribble. It does not apply to characters that transfer in once we open up character transfer.
The Klingon content is coming next week, and we'll post about the Klingon gameplay changes and the awards for playing on Tribble as that content becomes available.
Stephen D'Angelo
Executive Producer
Star Trek Online