By admin @ October 4, 2011 at 5:30pm

The C-Store Comes to Tribble
This Thursday (October 6), we're going to open up the C-Store on Tribble. The first thing you'll notice is that you will not have access to your current pool of Cryptic Points while in the Tribble testing environment. Instead, everything in the store will be bought with Test Points.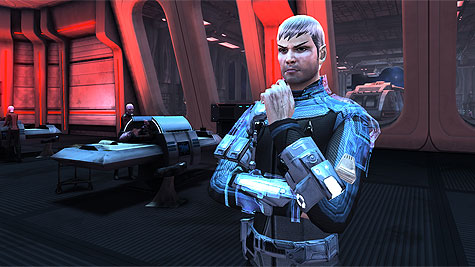 There will be two ways to get Test Points. The first way will be through the Cryptic team giving them away for free. We plan on doing Test Point giveaways at least twice during the test period for all accounts that have a character on Tribble. We will not be pre-announcing when we are giving away the points, so be sure to have a character on Tribble if you would like to receive some free Test Points.
The other way to get Test Points will be to buy Cryptic Points. Starting today and continuing through the Free-to-play test period on Tribble, whenever you buy Cryptic Points in game or on the website, you will get an equal number of Test Points. For example, if you buy 1,500 Cryptic Points, you will get both 1,500 Cryptic Points and 1,500 Test Points for use on Tribble. The Cryptic Points can be used immediately on Holodeck to make C-Store purchases, or you can save the points for later use. Test Points can only be spent in the C-Store on Tribble.
Why would you want Test Points? Well, because during the test period on Tribble, we are going to be releasing some new starships and other goodies on the C-Store. In order to try them out, you'll need to buy them with your Test Points.
I am sure that some of you are probably balking at the second way to get Test Points. The reason we are making this an option is because we want to find out what C-Store items you value most and we cannot get that information by giving out free and unlimited Test Points. We'll try to give out enough so that everyone gets to try something new, but we want to allow you all the option of getting what you really want. We paired Test Points with real and valuable Cryptic Points as a way to ensure that anyone who buys points is getting their full value and a bonus as well.
We look forward to opening up the Tribble C-Store this week and getting your feedback in the forums.
Stephen D'Angelo
Executive Producer
Star Trek Online
I was sure this posting would generate a lot of opinions from you all. Let me see if I can address some of the comments here, even though some were addressed earlier by another member of my team.
First, Tribble is a special case test environment like nothing we've done before. Nothing you have unlocked on Holodeck will appear as unlocked on Tribble. Tribble is a completely closed environment. We are isolating this environment so we can see how the game looks to players who are not arriving with 20 months of purchases behind them, and to see how the game holds up.
Once we finish this test cycle, we plan to return Tribble to the way it used to work. As far as we can tell, this is a one time kind of test for us. There is so much changing within the game, that we needed a more isolated environment in order to study and then correct the things we do wrong. It's already clear that we've messed up a bunch of things, and we're adapting and changing. I know that to many of you it feels like we're not doing much, but this is only the first build we have up. We're planning one build with fixes a week, so it may feel glacial to you, but we're working as quickly as we are able. This is going to be a much longer test than many previous runs. We're nowhere close to putting this on Holodeck.
Second, if you don't want to get Test Points any way other than through the free ones we give out, that's just fine. We are not going to force you to buy Cryptic Points just to get Test Points. We are just making the option available. There should quite a few free Test Points in the test environment.
I'm not insulted or even mildly surprised by the people who say they won't use this option. In fact, I fully support all of you who choose not to use this option. I'm not sure that I would use it either. Enjoy the free points and play with them.
For those that choose to get Cryptic Points for one reason or another, you get a bonus on Tribble. I tried to make it clear in the original text that the Test Points are a bonus for those that would buy Cryptic Points anyway, and not supposed to be a "make you pay to play". I'm sorry if I failed in my attempt to make that clear.
To make this concrete, imagine going to the grocery store and finding out that they will give you one doughnut for free today just for coming in. And then the grocer said that you'd get an extra free doughnut with each purchase of a half-gallon of milk. If you don't want milk, then you still get a free doughnut. If you were there to buy milk, you get an extra doughnut to take with you. We want the bonus Test Points to really be a bonus thank you to those that choose to buy Cryptic Points, and it saddens me that so many people choose to view this negatively instead of as a good thing.
Third, we are not applying the bonus Test Points offer to purchases of Cryptic Points prior today when we announced the offer. And we are not rolling over Cryptic Point balances. We're making this offer as a way to thank people for new Cryptic Point purchases.
Fourth, the new C-Store on Tribble will reveal our first attempt at how we plan to price items when the build goes live. We will likely revise the values before it gets live, however. When you see what is in the store, post your opinions in the Tribble forums. We'll be watching.
My goal is to make STO the best it can be. I'll certainly make mistakes. I'm human, after all. But I have the best interests of the game AND of the current community at heart.
Stephen D'Angelo
Executive Producer
Star Trek Online