By admin @ October 6, 2011 at 8:39pm

Dilithium
Dilithium is one of the rare and valuable elements in the Star Trek universe. With the release of last week's build on Tribble, we introduced this element as a new form of currency in the game. With today's update on Tribble, we have further enhanced the use of this currency.
The two important currencies in Star Trek Online are now Energy Credits and Dilithium. Energy Credits are intended for the normal expenses of operating a starship, such as getting standard gear, and for trading between captains on the exchange. Dilithium is generally harder to acquire, and is intended for getting access to new starships and the high-quality gear. Dilithium is not tradable.
Dilithium comes in two forms in the game. Dilithium Ore is a raw form of the mineral and Refined Dilithium is the form that can be used as currency. To see how much of each type of Dilithium you have, you can look on the Assets tab of the Inventory window. You will also find there a "Refine Dilithium" button. This is how you convert Dilithium Ore into Refined Dilithium. At this time, you will be limited to refining 8,000 units of Dilithium Ore each day. You can use the refining feature as many times as needed during a day, but the total you can refine will be limited to 8,000 units per day.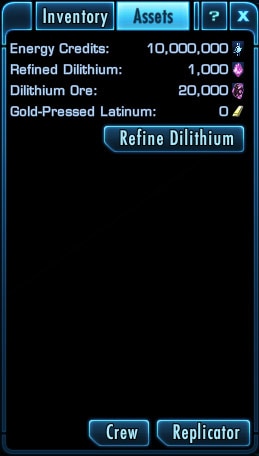 Procuring Dilithium
I can sense the many captains who are now ready to go fill their cargo holds with Dilithium. So, how do you acquire this rare and valuable commodity?
There is currently only one way to earn Refined Dilithium directly, which is on rank-up. Each time a character is promoted to a new rank, there will be an award of Refined Dilithium granted to that character.
There are many ways to earn Dilithium Ore, which can then be refined. Here are just a few of the ways available to do so. This is not a complete list.
Exploration: Starfleet officers of Lieutenant 4 (level 4) or higher can do a daily exploration mission that rewards Dilithium Ore. Starfleet Lieutenants can contact Lieutenant Grall and then explore three unknown systems in the Delta Volanis cluster. KDF Lt. Commanders should start out by hailing Lieutenant Atonone to get their exploration mission. As officers advance, additional exploration missions open up.
Daily Missions: Once a character completes the Devidian story arc (which becomes available around level 7), you can perform missions like "Defense Contract" and "Satellite Repair" once per day. Similarly, once you complete the Breen story arc (which becomes available around level 48), you will open up missions like "Aiding the Deferi" and "Emancipation." Completing these special daily missions will reward Dilithium Ore.
Duty Officer Assignments: Sending your duty officers on uncommon, rare, or very rare assignments has a chance of awarding Dilithium Ore.
Events: At various times of the day, and during special calendar events, there are additional ways to earn Dilithium Ore. For example, the Academy event and the Mirror Universe event both grant Dilithium Ore as part of the rewards. Check your in-game calendar to find out when these events are running.
PvP: Completing the daily mission "Into the Fray," or other daily PvP missions, rewards Dilithium Ore. Starfleet officers should hail Captain Mackenzie Calhoun to get this mission. KDF officers should hail Lt. Commander Kultan.
Special Task Forces (STFs): Once you reach Rear Admiral (level 41), you can queue up to play the STF missions, like "Infected." During these missions, you can earn salvage that can be traded in for containers of Dilithium Ore.
One thing in common between the various ways to get Dilithium Ore is that they are limited to once-a-day activities or to activities only open during certain hours of the day. This is not accidental. At least for now, we're restricting how much Dilithium Ore players can collect in a single day, and we're splitting it across a variety of activities.
Spending Dilithium
The most obvious Dilithium expense for an officer climbing through the ranks will be getting access to new starships. Each time a player achieves a new rank, they will receive a "discount token" and a small sum of Refined Dilithium. The discount token allows the player to purchase one new starship of the appropriate tier at a deep discount.
Existing players are probably used to getting a "free ship token" at each rank up. With the new changes, the discount plus the Refined Dilithium award will often not be enough to get a ship. It will be close to enough at the lower ranks, but there will be a larger gap at the higher ranks. We expect that players will need to spend a portion of their time as they level up doing daily missions and other means to acquire Dilithium. If they do so, they should generally have more than enough to acquire a ship at rank-up. If, however, they have not been participating in the daily content, they may find that there is a gap they need to fill.
As players on Tribble this past week discovered, we did not set the system up very well for the first build on Tribble. There was no discount token, the gap in the Dilithium award was far too severe, and many people didn't know how to get enough Dilithium. This led to a lot of frustration. The new build that is out today should make future ship upgrades much easier, as well as providing ways to earn the much coveted Dilithium.
Another great way to spend your Dilithium is on gear. On Earth Space Dock and Qo'nos, there are vendors for ship and ground gear that sell some of the better gear in the game in exchange for Dilithium. So even if you already have the starship you want, playing the daily missions to get extra Dilithium will help upgrade the gear on your ships.
Other Notes
With the introduction of the Dilithium economy this week, we have phased out Merit and Honor as currencies. Everywhere players used to be able to spend these currencies has been converted to either Dilithium or Energy Credits. We have similarly phased out the use of Emblems as a form of currency. Next week, I'll reveal what will happen to existing characters when the F2P build makes its way to Holodeck.
Also, to coincide with the introduction of Dilithium, we are making adjustments to the crafting system. Unfortunately, a broken version of the crafting system that does not represent our intent is currently on Tribble. We are working on getting the correct version into a build, and I'll post more about it when the proper version is available for you all to take a look at.
As you can tell from above, there are a lot of changes to how the STO game economy works here on Tribble. The main goals with all of these changes are to simplify the previously large number of currencies for players, while encouraging some more diverse play experiences, especially at the higher ranks. We likely still have bugs and problems with this system, so let us know what you learn and what you think about the economy changes by posting on the Tribble forums.
Stephen D'Angelo
Executive Producer
Star Trek Online