By admin @ October 7, 2011 at 5:33pm

Lore Missions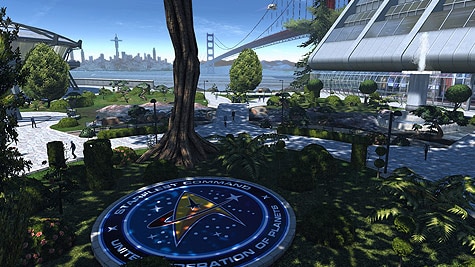 "Dream not of today, Mr. Picard."
"Dream not of today … the night blessing of the Yash-El."
"As I recall, you missed that question on your final exam."
"Well, I've had a few years to look it up."
~ Professor Richard Galen and Captain Jean-Luc Picard, "The Chase"
The Star Trek universe has a rich history and we know that Star Trek fans love to learn more about it. In the current build on Tribble, you can get your first look at our new Lore missions.
Lore Missions are non-combat daily missions available to all Federation and Klingon Defense Force characters.
One of the two daily Lore missions allows you to collect a history datachip. We've broken down the entire Path to 2409 into chapters, and each datachip contains one of these chapters. As you collect datachips, you will earn Accolades. These Accolades have the entire text of the Path (and a few new additions!), so you'll eventually be able to have a record of the 40 years between Star Trek: Nemesis and 2409 in your Journal. In addition, the datachips are tradable, so if you get one you already have you can trade it with another player or place it on the Exchange.
The other daily Lore mission tests you on your knowledge. Answer correctly, and you'll earn a reward which includes a small amount of Dilithium Ore. Also, for the Accolade hunters, there are almost 200 new Accolades related to Lore missions!
To access Lore missions, visit Commander Viala at Starfleet Academy or the Apprentice Loresinger near the Great Hall in Qo'noS. Once the Klingon Academy zone is open, the Apprentice Loresinger will move there to be with the students of Klingon history.
This is just the start! Future updates to the Lore missions will involve stories from the Federation's past, tales of the great heroes of the Empire, briefings on the many antagonists in Star Trek Online and more.
So start collecting your datachips and don't forget to do your homework! There will be an exam.
Christine "Kestrel" Thompson
Writer
Star Trek Online