By admin @ October 12, 2011 at 1:39pm

Tribble Test Cycle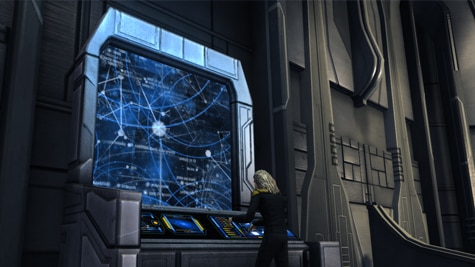 We had another fantastic weekend on Tribble, hitting record numbers of players. The development team is really pleased to see all of you trying out the game on our test server, and we're equally pleased with the feedback you are all giving us on the game.
What we are doing on Tribble is quite a bit different from any other test that the Star Trek Online team has run before. We are experimenting with a number of changes that the development team thinks will improve the overall game. Some of the changes are easy ones, such as bug fixes or adding new game play like the Lore Missions or Duty Officer System. Other changes are more dramatic…
The big area that we are experimenting with is the economy as a whole. It's our opinion that the game will be more fun if the rewards for different types of gameplay and the virtual goods prices are adjusted to reflect better how players play the game. We want the best way to level up to also be the most fun. We want a variety of play styles to be equally rewarding. And we want the best rewards to feel like something you earned instead of something that came too easily, thereby avoiding a loss of value. Tinkering with an economy, however, is complex and not something that comes together in one try.
It's clear from your feedback that not all of the things we are trying so far are really improvements. In fact, in some cases they are big steps backward or they are simply broken. We are listening to the community's feedback in the forums, and we are collecting data on how players are really playing with the new changes. All of this is being evaluated and going back into making the game better.
The challenge for us is that it takes a lot of effort to put up one build each week with major changes in it. The development and test cycles required to turn builds this quickly are keeping the whole team very busy. From our perspective, the team is running at a breakneck pace. From your perspective, however, the rate at which we are responding to your feedback may seem glacial. You see a problem perhaps hours after we put up a build, then you may wait days for the problem to be resolved.
The good news is that we are far enough away from pushing to Holodeck that we still have time to take feedback, make changes, and iterate. You can expect that we will constantly be working to improve the builds on Tribble. To set expectations for those of you worried about the state of the economy (and Dilithium, in particular), it will probably be at least two weeks before we have it worked into a state that is stable and really makes sense.
You may have noticed that while we have been posting to acknowledge that various game play elements are not working, we are not posting how we intend to fix them. We are not telegraphing changes until we get a chance to try them out internally to make sure that they're satisfactory. Usually this happens all the way up until the next build makes it to Tribble. I have told the team that it's better to be quiet than to post answers that turn out to be different from what we actually end up doing. Misinformation can be worse than silence in some cases.
I have been reading the forums and it's clear that some people are attributing gameplay changes to the transition to the free-to-play model. The truth is that with the exception of C-Store changes, very few of the changes being made to the game are related to this transition. Instead, almost every change is intended to make the game better for everyone. Going free-to-play is our chance to expose millions of new users to the game, and we want Star Trek Online to be bigger and more fun than it has ever been before.
Thanks once again to all of you who are playing on Tribble and posting in the forums with your feedback. We couldn't do it without you!
Stephen D'Angelo
Executive Producer
Star Trek Online