By admin @ October 12, 2011 at 8:47pm

Starships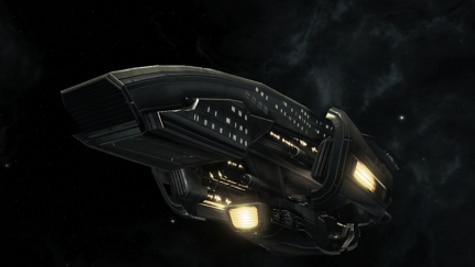 A captain's starship is critical to success in any mission, and so knowing what starships are available is something all captains should be familiar with.
On the Tribble test server, we are experimenting with some line-up changes to the starships for both the Federation and Klingon Defense Force. Our goal is to fill out the starship options at each tier for both in-game and C-Store starships. See the two charts below for details.
The big news for starship lovers is that there are a number of new ships due to show up on Tribble in the coming weeks to help fill out the starship options. These new ships are italicized in the chart. We'll be unveiling the details on these ships as they make it to Tribble, but we thought you might enjoy a preview.
The other news for Federation captains is that the Excelsior and Nebula class starships in the Commander tier are moving from being available in the game to being sold on the C-Store. This change is being tried in order to balance the offerings at each tier. These ships are also getting an upgrade so that they include a valuable console item. Both will be getting an additional console slot and the Excelsior will be getting an additional Bridge Officer slot. Players who have one of these ships prior to the F2P build going to Holodeck will find that their ships are upgraded and receive the additional console item.
For KDF captains, the Orion Marauder and Gorn Varanus are being moved from the Lieutenant General rank down to the Brigadier General rank in order to better fill out the Klingon starship offering. The Orion Marauder is being upgraded to have a hangar bay so it can function as a carrier.
The C-Store starships differ from the in-game ones, in that they are typically slightly stronger in some way, and they include a valuable piece of gear that is only available with that ship. The piece of gear can be carried forward to other ships as you move up the ranks, and can be combined with in-game gear to get the kind of game play you want. By the time we get through testing, we intend for all of the existing C-Store ships with a special ability will be altered to have a piece of gear like this. Existing ships on Holodeck will be automatically granted the item when this build goes live. It's worth noting that not all of the ships have these changes on Tribble at this time. The changes will be going live in stages throughout the test period.
A rumor went around this past week that some C-Store ships would be for a single character. This is not true. All C-Store purchased ships at this time are unlocked for all characters on an account. We may release some ships that are for a single character in the future, but we do not plan to do so with the existing ship line-up.
Any change to the starship line-up is cause for careful consideration, so give this a look and let us know what you think by posting in the forums. As with any information given out during the test period, everything in this posting is all subject to change based on what we learn in testing.
Oh, and before I go, we plan to re-instate the free starship token at the Lt Commander and Commander rank for all players. We plan to continue the discount token for Silver players at the Captain and Rear Admiral rank, while Gold players will get the free starship at those ranks (if they are a subscriber at the time of rank-up). We do not plan to have any free starship at the Vice Admiral rank.
Stephen D'Angelo
Executive Producer
Star Trek Online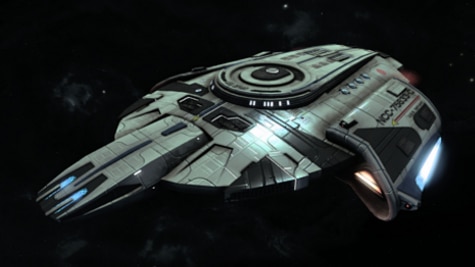 Federation Starships
Rank
In Game (Dilithium or Special)
C-Store
Lieutenant
Miranda (starter ship)
Cruiser: TOS Constitution
Escort: NX Class
Science: Oberth
Lt. Commander
Cruiser: TWOK Constitution
Cruiser: Exeter
Escort: Saber
Escort: Gladius
Science: Nova
Science: Rhode Island
Commander
Cruiser: Cheyenne
Cruiser: Excelsior
Escort: Akira
Escort: Thunderchild
Science: Olympic
Science: Nebula
Captain
Cruiser: Galaxy
Cruiser: Venture
Escort: Defiant
Escort: Sao Paulo
Science: Intrepid
Science: Bellerophon
Rear Admiral
Cruiser: Sovereign
Cruiser: Excelsior Retrofit
Cruiser: Avenger
Science: Nebula Retrofit
Escort: Prometheus
Science: Vulcan D'kyr
Escort: Hermes
Science: Luna
Science: Oracle
Vice Admiral
Cruiser: Galaxy Retrofit
Escort: Prometheus Refit
Escort: Defiant Retrofit
Science: Intrepid Retrofit
Cruiser: Galaxy Dreadnought
Shuttles
Type 8 Shuttle (Romulan series)
Delta Flyer
Captain's Yacht (veteran reward)
Peregrine Fighter
Danube Runabout
Class F Shuttle (via TOS Bundle)
Tal'Kyr Support Craft (with D'kyr Vulcan Science Vessel)
Klingon Starships
Rank
In Game (Dilithium or Special)
C-Store
Commander
Bird of Prey: Ning'tao (starter ship)
Bird of Prey: Ning'tao Refit
Battle Cruiser: K't'inga
Battle Cruiser: K't'inga Refit
Raptor: Qorgh
Raptor: Qorgh Refit
Orion Dacoit Flight Deck Cruiser
Nausicaan Vandal Destroyer
Gorn Phalanx Science Vessel
Captain
Bird of Prey: Ch'Tang
Bird of Prey: Ch'Tang Refit
Battle Cruiser: Vor'cha
Battle Cruiser: Vor'cha Refit
Raptor: Pach
Raptor: Pach Refit
Orion Corsair Flight Deck Cruiser
Nausicaan Scourge Destroyer
Gorn Draguas Science Vessel
Brigadier General
Bird of Prey: Hegh'ta
Bird of Prey: Hegh'ta Refit
Battle Cruiser: Negh'Var
Battle Cruiser: Negh'Var Refit
Battle Cruiser: Vor'cha Retrofit
Raptor: Qin Refit
Raptor: Qin
Orion Marauder Flight Deck Cruiser
Carrier: Vo'quv
Gorn Varanus Science Vessel
Lt. General
Bird of Prey: B'Rel Retrofit
Carrier: Kar'Fi
Nausicaan Guramba Siege Destroyer
Shuttles
Turon Shuttle (Romulan series)
To'Duj Fighter
Chariot (veteran reward)