By admin @ October 13, 2011 at 8:02pm

The New Economy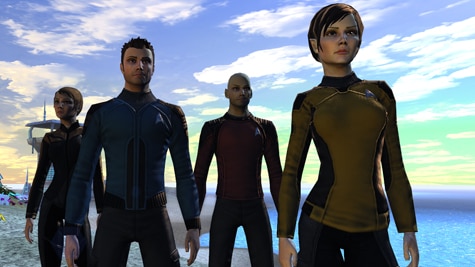 As I was working today, I harkened back to a 20th Century Earth politician who used the phrase "It's the economy, stupid!" The truth is that when the economy works well, people love you. When it doesn't, it's hard for anyone to be happy.
With today's update to Tribble, we continue our work to get the game economy set up and making sense. Today you should see the Dilithium costs for most things dropping to as little as 10% of what they cost yesterday, and we may continue to lower the costs as we get through reviewing the various systems. We still have quite a bit more of the game economy to review, revise, and iterate on. Please do check out the new pricing and let us know what you think on the forums.
One thing I am noticing while reading in the game forums, is that we really haven't clearly communicated the goals of the new economy. Hopefully, this blog entry will clarify at least a few details.
The Energy Credit currency is what a starship captain should expect to use for all normal game play expenses. Energy Credits are what you should find yourself needing and wanting in every play session. If there is something done all the time during normal game play that is not using Energy Credits yet, we will be looking to change it over. We're also looking at how to make the Energy Credit rewards and expenses match up. You should expect to see changes in Energy Credit flow as we go forward in the test cycle.
The Dilithium currency is something that we think many starship captains will never need in quantity. If you enjoy playing the episode story line, getting your crew decked out with moderate gear, and so on, you may not need a single unit of Dilithium. The only exception might be the expense of Captain and Rear Admiral ship upgrades for Silver players, which may require a few hours of Dilithium mission play.
What we do intend for Dilithium is to enable captains to go beyond the casual and into the hardcore acquisition of items. If you want to collect extra starships, or want high end gear for competitive play, or otherwise are going beyond what the average player requires, then you'll probably find yourself looking for content that rewards you with Dilithium.
Do I want to make the game "grindy"? Not at all. I certainly don't want it that way for a casual player. But I do want to make it so having top end gear and having extra starships takes some real work. I want for those top end targets to be brag-worthy. I want them to have actual value to the players who achieve these goals. Some time after the game goes free-to-play, I would like to have a handful of people bragging that they have a full set of starships or that their flagship is equipped with top end gear… knowing that only people who were subscribers before F2P or who worked as hard as they did could say the same.
Am I making some things in the game harder to get than before? Definitely. But I don't want anything that is painfully out of reach, as has been true on Tribble the past couple of weeks. The trick will be to find the right balance so that the prices match how hard people are willing to work for the items. This is part of what we will be testing for on Tribble.
The final piece to this puzzle for us is the Currency Exchange, which is not yet available on Tribble. The Currency Exchange will allow players to trade their Dilithium for other players' Cryptic Points. Why is this important? What this means is that anyone who is willing to spend their time to get Dilithium can trade that away for Cryptic Points, which means anyone willing to spend enough time can get anything and everything from the C-Store without spending any money. What it also means is that players with Cryptic Points can trade their points to get Dilithium that they want to get the in-game gear and starships they want.
The key thing to note here is that Cryptic will not be selling Dilithium, so there will only be as much Dilithium available as the player base wants to trade away. The laws of supply and demand come into play here. If Dilithium is difficult to come by, it will have a high value. If it's easy to come by, its value will decrease.
In order for this all to work, we need to have something valuable that is only available for Cryptic Points, and we need something valuable that is only available for Dilithium. In the current Tribble economy, these are the C-Store starships and the Dilithium high-end gear. If this idea works out well, we will likely work to expand the set of desirable options on both sides. Or possibly we'll adjust to try something different during the testing.
The Currency Exchange is an experiment with something a little different from what other games have tried. Our goal is to make it so that you can truly get everything you want without spending any money if you have time to invest. And to make it so that players who have less time can spend money to get what they want.
I'm sure it has been hard to see any of this pattern by playing on Tribble so far. High prices and lack of options for getting Dilthium really can look like we're locking out game play and intending for players to commit themselves to endless grinding. These actually reflect our lack of information on actual game play. By watching the actual rates of players earning Dilithium and Energy Credits, and watching how people spend them, we're iterating and improving on the whole economy. Based on how rapidly we're getting data and revising the game, we're still probably two more weeks away from having the economy in a state that is close to good enough. So, please do keep playing and letting us know what you think.
I look forward to reading your feedback on the Tribble forums.
Stephen D'Angelo
Executive Producer
Star Trek Online