By admin @ October 18, 2011 at 6:22pm

Character Transfer Opens on Tribble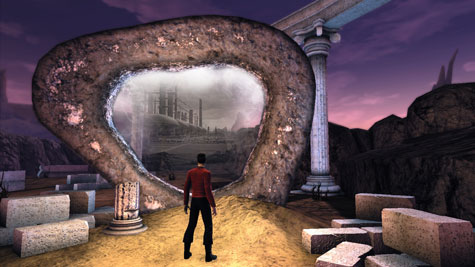 After nearly three weeks on the Tribble test shard, the ability to transfer characters to Tribble is being enabled today.
Before I explain how to transfer a character, it's important to be aware that we are letting each account transfer exactly one character. After you have transferred a character to Tribble once, you will be denied further transfers.
We are limiting players to one character transfer right now in order to limit the impact of transfers on the overall economy of Tribble. If we allowed unlimited transfers, like we have on other test shards, it becomes possible to bring unlimited currency into Tribble from Holodeck, which would invalidate some of our testing.
To transfer a character, go to the character transfer page here. You will see a choice of which character you want to transfer and to which shard. The shard choice will include both Tribble and RedShirt. Choose the character you want to transfer and choose Tribble. After your first transfer, the option to choose Tribble will no longer be there.
The other restriction on transfer is that you must have a free character slot of the right type, or the transfer will fail. On Tribble, each player will have one Federation Only slot, one Klingon Only slot, and one slot that can be used for either. You may also have other slots if you earned them or purchased them. If you have filled up both your Federation Only slot and all of your universal slots, then you will not be able to transfer another Federation character over. You can either delete a character or use some Test Points to acquire additional character slots. (Note that we'll likely be giving out more Test Points sometime this week.)
So what happens to a transferred character? The short answer is that the character gets upgraded to the new game version, but what this means differs between Federation and Klingon characters.
For Federation characters, the only noticeable part of the upgrade is that all unspent Merit, Emblems, Marks, Medals, and Badges are converted into Refined Dilithium and/or Dilithium Ore. It's a pretty complicated algorithm that takes into account how long we feel it takes to earn each of those currencies, and converts it into our new "time currency" called Dilithium. Most characters will get their full balance in Refined Dilithium, but characters with a large balance (less than 1% of characters) will receive some of it in Dilithium Ore.
Klingon characters will undergo the same currency conversion. In addition, any Klingon that is transferred and had been under level 21 will be bumped up to an appropriate level. They will have new unspent Skill Points, and access to consoles where they can purchase items and a ship necessary to play their character at the new level. These consoles can be found in the Warrior's Hall or on Qo'noS in the Barracks, so we advise heading there directly after transfer. In future updates, we will automatically transfer upgraded Klingons to the correct location.
All transferred Klingons, regardless of level, will be given access to a starter ship and a selection of items. These are the same ship and items that all new Klingons start with, so existing players will not have to restart to gain access to this equipment. Converted characters will also have many of the missions which had completed reset, so those missions can be played again wherever they appear in the new mission sequencing.
The upgrade process is exactly the same process that will be applied to existing characters when this build goes live on Holodeck. It's likely the process will have some bugs at this time. If you discover problems, please report them on the Tribble forums.
We look forward to getting some established characters onto Tribble, and letting you all try more of the higher level game play that the new build has to offer. See you there!
Stephen D'Angelo
Executive Producer
Star Trek Online
Addendum
Players should be aware that Tribble does not honor any C-Store purchases or other unlocks earned on Holodeck. Characters that transfer over should keep any ships or items they currently have, even if they are not currently unlocked on Tribble, but unless the item has been separately purchased on Tribble using Test Points, the character may be unable to claim ships, items, or other unlocks they have had access to on Holodeck.