By admin @ October 20, 2011 at 5:12pm

Crafting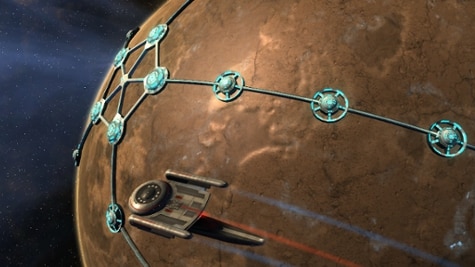 Today's update on Tribble includes the first complete pass at updating the crafting system in Star Trek Online.
The basics of crafting have not been altered. Characters scan anomalies found around the galaxy to collect a wide variety of samples. They then make their way to Memory Alpha (or to Qo'noS) to get to work. At first, only first tier gear (Mark I and Mark II) can be crafted, but after earning enough crafting experience, second tier gear (Mark III and Mark IV) gear becomes available. This continues through third tier (Mark V and Mark VI), fourth tier (Mark VII and Mark VIII), and fifth tier (Mark IX, Mark X, and Mark XI).
Before crafting a given item, you must first acquire the schematic. These can generally be purchased using Energy Credits, but many can be crafted themselves using samples.
On Holodeck at this time, only Mark II, Mark IV, Mark VI, Mark VIII, Mark X, and some Mark XI gear can be crafted. On Tribble, all marks of gear can be crafted. Gear from Mark I, Mark III, Mark V, and Mark VII can be crafted using only samples. Gear from Mark II, Mark IV, Mark VI, Mark VIII, Mark IX, Mark X, and Mark XI are crafted using samples, but also require a contribution of Refined Dilithium to complete the crafting.
The gear that can be crafted without any Dilithium is still good gear, but it's not the best. Our goal is to make it so that crafting is still rewarding and useful to everyone, even if they are not interested in working to acquire Dilithium.
The standard gear that can be crafted using a Dilithium contribution is generally identical to the gear found in stores for sale using only Dilithium, but the Dilithium cost when crafting is much lower. Thus, players that put the time into collecting samples and improving their crafting skill can get the same gear at a substantially lower cost. The discount varies with the quality of the gear, but it is meaningful. The introduction of Dilithium as a cost on these schematics reduces the ability to mass produce high-end gear, which is being done intentionally to increase the difficulty of acquiring such gear.
Crafting does offer some gear that cannot be acquired in any other way, such as the Aegis set. This special gear now has a Refined Dilithium contribution as part of each schematic.
The changes on Tribble are a first pass at revising the crafting system. These updates are broad and it is likely that there are errors in the data at this time. We will be working to fix these errors in future updates. We will also be looking at ways to adjust the system.
Please let us know what you think of the crafting changes by posting on the Tribble forums.
Stephen D'Angelo
Executive Producer
Star Trek Online