By admin @ December 20, 2011 at 4:02pm

'Tis the Season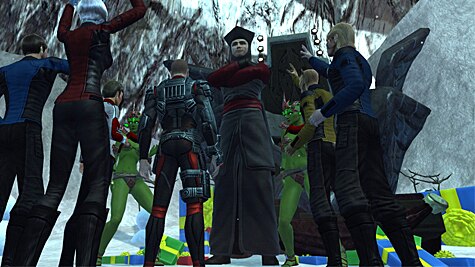 The holiday season is upon us here at Cryptic, and with much of the dev team taking time out to spend with family, it's going to be quiet during the week leading up to the new year. This week, however, we do have some news for you.
First, I want to thank you all for joining us this past weekend for the Junior Officer Appreciation event. Many thousands of captains set aside time to spend with their Duty Officers, and enjoyed a nice commendation bonus for doing so.
Next, we have decided to extend the Q's Winter Wonderland event for one extra week and let it run through 10:00am PST on January 9, 2012. We hope you all take advantage of the extension to drop in, run the race, and be festive with your fellow captains. Those of you who visit the Wonderland during the coming week, just might even find something unusual there. Keep your eyes open.
The dev team is busy working on the Dominion Featured Episode series and on something fun for the upcoming Second Anniversary event. 2012 is going to be a great year for STO!
And finally, you can look forward to a new update on the Tribble test server this week. We've been busy working on the ground skill revamp, and we have some other changes in the works that should get onto Tribble this week. Watch for updates and further dev blog postings for more details.
Happy holidays to you, your crew, and loved ones!
Stephen D'Angelo
Executive Producer
Star Trek Online