By admin @ December 22, 2011 at 2:09pm

Levels and Graphics Updates on Tribble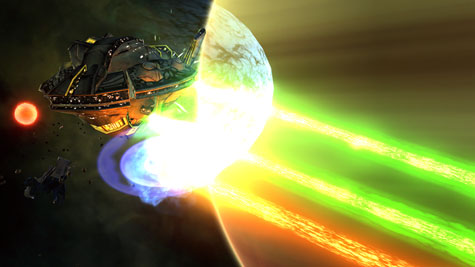 The build that went live on Tribble yesterday introduces two changes that everyone should be aware of:
First, we made a change to how character level is displayed. In the past, the character level was displayed as a rank and a grade; for example, "Commander 7" or "Captain 5". This was intended to feel more military and IP appropriate, but it led to a lot of confusion with people who were not familiar with ranks. Is a "Lt. Commander" higher or lower than a "Commander"?
With this update, characters now display their actual level number with their rank. For example, "Commander 26" or "Captain 34". While the flavor we hoped to achieve with the old display method was fun, this new display should make it a lot easier to track your character's advancement, and it makes it easier to communicate about character progress.
While making this change, we also put in a one level shift down in the display value. Characters now level from "Ensign 0" to "Vice Admiral 50". The reason we made this shift was so that characters rank up on the levels divisible by 10. For example, a Starfleet officer achieves Lt Commander at level 10, Commander at level 20, Captain at level 30, Rear Admiral at level 40, and Vice Admiral at level 50. We believe that this will feel more natural to players, and it made sense to make this shift at the same time that we were changing to display the actual level.
We want to emphasize for everyone that no one actually loses a level with these changes. This is simply a change in how level is displayed. We do realize that it will take a while to get everyone used to the shift, but we feel that in the long run everyone will find that they prefer the new display.
Second, we have released some graphics engine changes. These are mostly performance improvements.
The primary feature released is support for DirectX 11. By default, the game will utilize DirectX 9, but you can switch to DirectX 11. Some people report up to a 20fps increase when playing the game after switching to DirectX 11. To enable it, go to the "Options" window, switch to the "Video" tab, check the "Show Advanced Settings" checkbox, scroll down to the bottom and open the "Troubleshooting" section, and then use the pull-down choice on the first line to make your choice. Changing the setting will require a restart of the game client before it takes effect.
When playing on Tribble, be sure to let us know about any graphics issues you run into. We'll be watching the forums to identify issues that can be addressed.
As a reminder, none of this is live on Holodeck at this time and is only present on the Tribble test server. We expect this build on Tribble to make its way to Holodeck sometime in the first half of January. Also, note that Cryptic will have minimal staff monitoring the forums during the week before the new year, so feedback may not be processed until the first week of January.
Thanks and see you in the New Year!
Stephen D'Angelo
Executive Producer
Star Trek Online