By admin @ January 3, 2012 at 4:39pm

A New Year in STO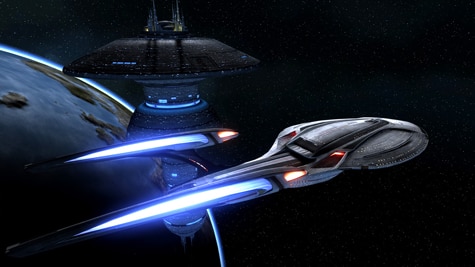 It's hard to believe that it is already 2012, and that Star Trek Online is rapidly approaching its two year anniversary. With the dawning of the near year, I thought you might like a little preview of what's in the development plans for the game.
The first two weeks of January will see more bug fixes coming to Holodeck, along with a few features that have been in testing on the Tribble test server. We're busy preparing for the 17-01 (January 17) launch date for STO becoming a free-to-play game. This is an exciting time!
The game goes to warp speed in February. We're kicking off the month with a second anniversary event that includes the introduction of the new Odyssey class starship for Federation play and a brand new Klingon flagship for KDF play. Look for more information on these awesome ships later in the month.
Following rapidly on the heels of the event is the new Dominion featured episode story arc, with five new episodes coming your way through February and into March. March should also see the first expansion for the Duty Officer system and the next set of game features, with some more events and content following though April and May.
All told, it's my goal to have something new in the game nearly every week starting with the second anniversary event and running through the end of April.
We're already at work on the design of Season 6, which is being targeted for a June release. So what's on the short list of features being worked on? We're looking at doing some major upgrades on some key parts of the game. Foundry, PvP, and crafting are scheduled to get significant improvements, and there should also be some new features such as a fleet advancement system. We'll share more details later as Season 6 comes into better focus.
As with anything that the development team posts that is forward looking, everything said here is subject to change. Even the best laid plans are subject to interference by Q and other anomalous events.
Happy New Year!
Stephen D'Angelo
Executive Producer
Star Trek Online