By admin @ January 25, 2012 at 4:40pm

Odyssey Class Starship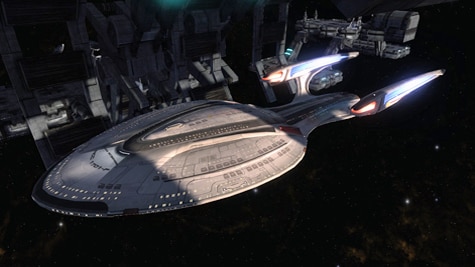 As part of the Star Trek Online Second Anniversary event, all Federation characters of at least level 5 will be able to acquire the new Odyssey class starship for free. You must be a Vice Admiral to operate the Odyssey class starship. Any character below Vice Admiral rank will receive an inventory item that can be opened later, upon achieving Vice Admiral, in order to access the ship.
The design of this ship is credited to Adam Ilhe, winner of the Design the Next Enterprise contest held last year.
This starship is the newest ship in the Starfleet arsenal, and so we're sure that you are all wondering what the full capabilities of this ship are. The final stats are still classified and are subject to last minute changes, but our intelligence group has collected the information below.
Stephen D'Angelo
Executive Producer
Star Trek Online
Starship Details
The pinnacle of Federation starship design, the Odyssey Star Cruiser will carry the Federation into a new generation of exploration.
In honor of this monumental technological achievement, Starfleet Command has authorized the construction of a new flagship. This vessel, the U.S.S. Enterprise-F, will embolden its crew to embrace the principles of exploration and cooperation that are the hallmarks of the Federation. In the Odyssey class, crews will explore strange new worlds, seek out new lifeforms and new civilizations and boldly go where no ship has gone before.
The Odyssey class is the largest vessel ever created by Starfleet. Its massive size makes it very resilient, but its turn rate is reduced by the bulk of the vessel. The Odyssey's unique split saucer pylon reduces subspace turbulence which allows higher warp speeds and increases the duration the ship can maintain Slipstream Drive. The Odyssey is designed as an extreme long-range vessel, and can operate for long periods of time away from support. Because of this, it is the most versatile cruiser ever developed by the Starfleet Corps of Engineers and features a Universal Lieutenant Commander Bridge Offer Station that can by operated by any Bridge Officer class.
Requires: Vice Admiral rank (level 50)
Weapons: 4 Fore, 4 Aft
Device Slots: 4
Console Upgrades: 2 Tactical, 4 Engineering, 3 Science
Bridge Officer Stations: 1 Lieutenant Tactical, 1 Commander Engineering, 1 Lieutenant Science, 1 Ensign Science, 1 Lieutenant Commander Universal
Hull Strength: 42,000
Maximum Warp: 9.996
Turn Rate: 6
Impulse Modifier: 0.15
Shield Modifier: 1.15
+10 Power to Shields, +10 Power to Auxiliary
Advanced Quantum Slipstream Drive (doubles standard Slipstream Drive time)