By admin @ January 27, 2012 at 6:55pm

Dominion Featured Series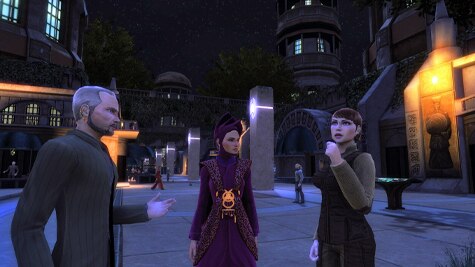 One of the highlights of Star Trek Online is the release of a new featured series. Each featured series provides a new story arc, executed with detail and care by the STO development team. The team also uses the longer development time that we give these stories to implement new types of gameplay and storytelling.
I am proud to announce that the Dominion Featured Series will start on Saturday, February 11th, at 10AM PST. The series is five episodes long, with each episode being released on consecutive Saturdays, until the big conclusion of the story on Saturday, March 10th.
With no active Star Trek TV series in production, the weekly release of featured episodes is the closest thing to the excitement of a TV series that Star Trek fans can get. Now that the game is free-to-play, it's an easy way to get your Star Trek fix!
The storyline centers around Deep Space Nine, Bajor, the wormhole, and the Dominion. We previewed a piece of the plot with the captured Jem'Hadar attack ships in December. Where did these ships come from? What is the current status of the Dominion? Are they really non-participants in the alpha quadrant's instability, or have they become active once again? So many questions, and you'll need to play the series to find the answers!
As with previous series, there will be special loot available while the series is in its first run, which will go away when the series goes into "reruns" afterwards. So, mark your calendars and join us each week for the new series!
Stephen D'Angelo
Executive Producer
Star Trek Online