By admin @ February 6, 2012 at 7:01pm

The 2800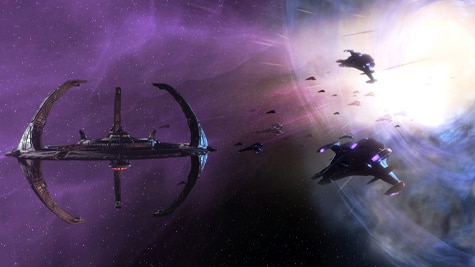 Several months ago, Starfleet and the KDF each started coming across stray Jem'Hadar attack ships in the sector near Deep Space Nine. This was unexpected, as was the fact that the ships appear to be of an older design, not seen in over 30 years. Researchers are busy trying to understand where these ships came from.
The newest featured episode series in Star Trek Online is coming this Saturday. The story explores what happened to the 2,800 Dominion warships that "disappeared" within the wormhole near Deep Space Nine. To catch up on your history of events, find a copy of the Deep Space Nine season 6′s episode "Sacrifice of Angels", or explore further by also watching the season 5 finale and the 5 episodes in season 6 that precede the momentous events in "Sacrifice of Angels".
The first episode in The 2800 will premiere at 10:00 am PST on February 11, 2012. The series will continue through four more episodes, each releasing on Saturday at 10:00 am PST, and culminating with the final episode on March 10, 2012.
Be sure to tune in during the first run of the series to get the extra bonus rewards that will be available during the first run. Once the series goes into reruns in late March, the bonus rewards will be removed.
Do you have what it takes to face the threat that required the legendary Benjamin Sisko to appeal to the Prophets for help?
Stephen D'Angelo
Executive Producer
Star Trek Online