By admin @ February 9, 2012 at 1:13pm

Lock Boxes, Consoles, and Boosts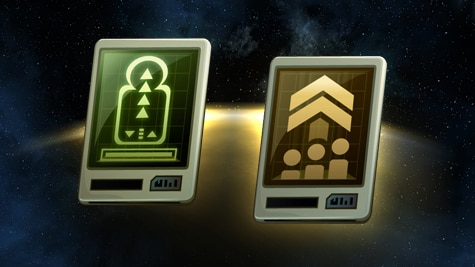 The big news today is the release of the new Cardassian Lock Boxes and the fabulous Galor Class Cruiser starship that is available with it. As you play over the coming weeks, don't be surprised when you start getting these Lock Boxes as loot.
That isn't the only headline item, however. Another change was made today that will interest connoisseurs of starships. As of today, most of the special consoles that come on C-Store purchased starships have had restrictions removed, so they can be used on more ships. In particular, consoles that used to say they were usable on a specific class of starship, such as just cruisers or just escorts, are now usable on any class of starship. This does not include consoles on the Vice Admiral / Lt. General rank ships. These ships still include consoles that are specific to a single ship.
This change is important because it expands the set of available consoles on all starships. So if there was a particular console you've been wanting to use, but it was previously disallowed on your starship class, you may be in luck.
The change does not apply to all consoles, so be sure to read the text in the C-Store. Consoles that have been restricted to a specific ship, such as the saucer separation, are still restricted in that way.
Finally, we made a pretty significant change to how boost items work. In the past, such boosts worked for a specific time period, such as 1-hour or 8-hours. This made it difficult to know when to activate such boosts to get maximum benefit.
Starting today, the boosts being sold no longer have a time limit. They now have a limit on how many points they provide, but work for as long as it takes for you to get the full benefit. For example, if you earn 2,000 skill points while playing, the boost that's running will add 400 bonus skill points to that for 2400 total earned points. Those 400 points are pulled from the pool of skill points you've purchased from the C-Store. So if you've purchased a 6,000 SP boost and played as above, you would be left with 5,600 remaining bonus SP. Your total skill points earned aren't deducted from the bonus pool, only the bonus skill points. We have 1,000 Skill Point and 6,000 Skill Point boosts available at this time.
There is also a new UI element that displays how much of your boost remains. This makes it easy to know how quickly you are burning through the boost and how effective it is for you.
Today also marks the introduction of Commendation XP Boosts, so you can get benefits for your Duty Officer play as well. You'll find these in the C-Store alongside the Skill Point Boosts.
The goal with reworking the boosts was to make the use of boosts a lot less stressful, and more of a guarantee for those that use them.
These changes do not affect any Skill Point boost items that characters acquired before the change. Those items will continue to work using the time period specified on them. The older boosts for Skill Points also provided a boost to Officer Skill Points that the newer boosts do not.
Change always takes a little while to get used to, but we hope you find these changes to be beneficial. Let us know what you think by hopping into the forums and sharing your thoughts.
Also, make sure to take a look at our Cardassian Lock Box FAQ here.
Stephen D'Angelo
Executive Producer
Star Trek Online