By admin @ February 23, 2012 at 2:16pm

Dev Blog: Yellowstone Runabout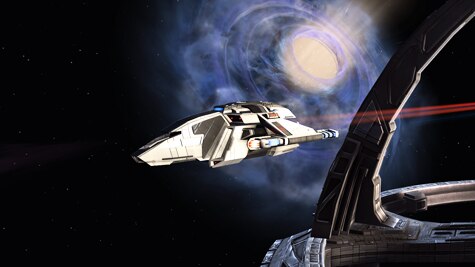 Starting tomorrow (February 24, 2012), a Yellowstone Runabout will be available for sale in the C-Store for 400 C-Store points. This small craft includes a brand-new Tetryon-Plasma Engine that may be used on other small crafts. Here is more information:
Runabout Refit: Yellowstone Class
Smaller than a starship but larger than a shuttlecraft, the Yellowstone is the newest Runabout in the Federation line.
The Yellowstone comes with an advanced Tetryon-Plasma Engine. This engine grants a +32 bonus to your Starship Warp Core Potential. The Tetryon-Plasma can also be ejected behind the Runabout. Any enemy ship that passes through the Tetryon-Plasma cloud will be slowed and may have its engines knocked offline. The Tetryon-Plasma Engine may be used on any small craft or fighter.
Like other Runabouts, the Yellowstone is often used as a tow vehicle. It comes equipped with a Tractor Beam to handle these utilitarian missions.
Items from the Yellowstone Class can only be used on other small craft.
Minimum Command Rank: Lieutenant
Crew: 4
Weapons: 2 Fore
Device Slots: 1
Bridge Officer Stations: 1 Ensign Universal
Console Modifications: 1 Tactical, 1 Engineering, 1 Science
Base Turn Rate: 24 degrees per second
Impulse Modifier: 0.2
Hull HP Modifier: 0.6 (Hull Strength increases with level)
Shield HP Modifier: 0.5 (Shield Strength increases with level)
Photon Torpedo Launcher that increases in effectiveness with level
Phaser Bank with 360-degree range of fire that increases in effectiveness with level
Tetryon-Plasma Engine
Tractor Beam I
This shuttle also includes a Non-combat Yellowstone Runabout pet that can be launched from your starship.