By admin @ March 7, 2012 at 4:09pm

Dev Blog: Duty Officer Expansion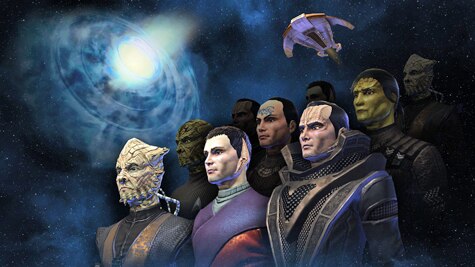 If playing "The 2800″ has you wanting more from the Gamma Quadrant, then the Prophets have heard you.
This week the Gamma Quadrant Duty Officer Cadre (220 Cryptic Points) makes its way through the wormhole to the C-Store, and with it comes the first expansion to Star Trek Online's Duty Officer System!
So what does this mean for Captains? First off, more species will be available as Duty Officers for your ships! Starfleet Captains can start adding Bajoran, Karemma, Paradan, Tosk, Vorta, Jem'Hadar and Cardassian officers to their rosters, and Klingon Empire Captains can recruit Ferasan, Dosi, Wadi, Hunter, Vorta, Jem'Hadar and Cardassian officers.
Some of these Duty Officers will have new Traits. All Vorta Duty Officers have Telekinesis, all Jem'Hadar Duty Officers have the Shroud Trait, and Bajorans, Ferasans and Cardassian Duty Officers have Resolve. Also, Ultra Rare active roster abilities are available on all of the new Species, so you'll have more chances to get the special officer you've been looking for to fill out your active roster.
You'll want these new Duty Officers for the dozens of new Assignments coming to Star Trek Online. Many of these Assignments either take place in Cardassian space or involve Gamma Quadrant species. For some, you may need a Duty Officer with Resolve, Shroud or Telekinesis.
This may sound like a lot of requirements, but the new Assignments have better-than-average rewards as well. So Duty Officer fans will want to complete them!
We're also adding new Assignment chains. There are eight new Consulate Assignment chains, each opening up repeatable Assignments to recruit Duty Officers from the new species. New Colonization Team Assignment chains provide access to repeatable Assignments with bonus CXP.
And for Captains looking for a little something extra for their ship, there are three new story Assignment chains with special rewards. Want a Rare Duty Officer? How about Rare or Very Rare Mk XII ship consoles? These Assignment chains are for you!
So this weekend, go to DS9 to play "Boldly They Rode," the final episode in the "The 2800," and then stay in Cardassian space to explore. Your Duty Officers are ready for action!
Gamma Quadrant Duty Officer Cadre
Here's what's included:
4 Common or better Officers
2 Uncommon or Better Officers
1 Rare or Better Officers
Species available in the Gamma Quadrant Duty Officer Cadre:
Bajoran (Federation only)
Karemma (Federation only)
Paradan (Federation only)
Tosk (Federation only)
Ferasan (Klingon Empire only)
Wadi (Klingon Empire only)
Dosi (Klingon Empire only)
Hunters (Klingon Empire only)
Cardassian
Jem'Hadar
Vorta
Note: You must have space in your Duty Officer Roster to commission the Cadre. If you do not have enough space, you can purchase additional slots from the C-Store or keep the Cadre in your bank until you do have space.