By admin @ March 22, 2012 at 8:22pm

Dilithium Mining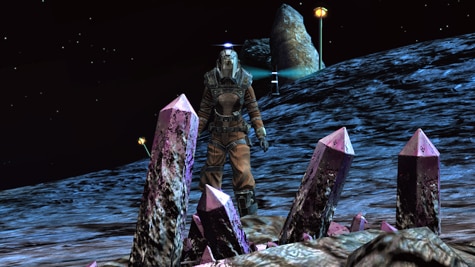 During the most recent Featured Episode Series, "The 2800," we introduced EV suits and the ability to spacewalk. As you may have noticed, you got to keep your EV suit after completing Episode 5, "Boldly They Rode" – and while there was a lot of speculation as to why, we are excited to announce that this was intentional and we will be adding more opportunities for you to use these suits. The first of these is on its way – after tomorrow's patch, there will be a new daily mission for Federation players level 9 and up and Klingon Empire players level 24 or higher.
Once a day you will be able to use your mission journal to hail Isihl, a Ferengi looking for profit. She received a loan to purchase a ship and then acquired the mining rights to an asteroid in the Vlugta belt. But, she needs help with labor, so she allows wildcat miners (you) to mine the asteroid. She gets a slice of every Dilithium discovery, and you get the opportunity to strike it rich!
The asteroid is in the Vlugta Asteroid Field, near Deep Space Nine and Bajor (Beta Ursae Sector Block). The field is a metal- and mineral-rich ring of asteroids under the control of the Vlugta government. Rather than engage in the expensive process of mining and refining the asteroids themselves, the Vlugta lease out sections to individual investors. Since the Vlugta remain a small, regional power, they avoid contracts with larger governments like the Federation or the Klingon Empire. The result is a wide collection of individual prospectors and small-claims miners who all pay the Vlugta government for the privilege of hunting for useful ore, Dilithium, or exotic substances.
As the asteroids in the field average 400 m in size, they do not support any known life forms. Prospectors must rely on EV suits, hand-held scanners and mining lasers, and a good deal of luck.
After picking up the Asteroid Mining mission, you can set a course for the asteroid. Before you suit up and leave the airlock, you will have a chance to check out and purchase some distinctive EV suits available for varying amounts of Dilithium. Once you are ready to start mining, click the "leave airlock" button on your screen to head out to the asteroid.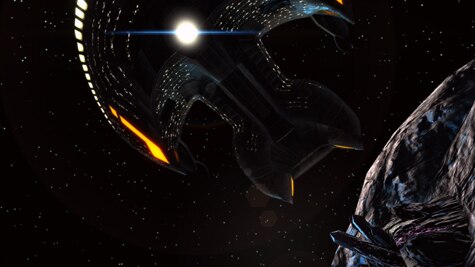 Once on the surface, roam around to the different mining spots. Utilize your minimap to find these locations, and feel free to use the Reaction Thrusters power built into your EV suit to move around from one Navigation Point to the next. It's a low-gravity environment, so jump around! Regardless of whether you have the mission or not, you can visit the map anytime if you want to socialize with fellow miners of either faction (and don't forget to look up – or down!).
After you reach a mining location, interact with it by using the "F" key – this will bring up the mining minigame. The minigame requires you to recalibrate your mining laser to different Dilithium veins, and the faster you find the correct calibration, the more Dilithium you will earn. You also can win bonus crafting material bonuses if your score is high enough. Once you have mined a total of 5 locations, turn in the mission to Isihl to collect experience and Bridge Officer Skill Points.
Because Isihl is grateful for all the additional labor, we've added a new hourly event to the "Today's Events" section of the mission journal. If you complete the above daily mission during this time, Isihl will lower her cut of the profits and you can earn 50 percent more Dilithium than you will at any other time!
Also, for this weekend only, from around 10 a.m. PDT tomorrow, Friday, March 23, to Monday, March 26 around 10 a.m. PDT, we are hosting a special Dilithium Mining Weekend event! During this time, visit the asteroid and pick up the Orange EV suit for free! (This suit normally costs 80,000 Dilithium, and the price will go back up next week!)
We hope you enjoy this new addition to the game, and we'll see you on the asteroid tomorrow!