By admin @ March 30, 2012 at 8:27pm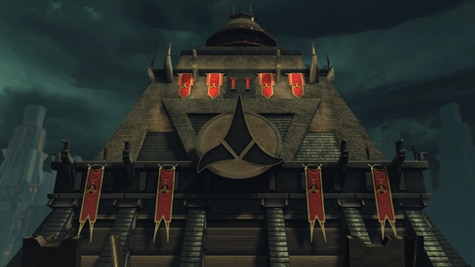 [Hailing frequencies open]
Greetings Klingon warriors!
This is your week for glorious battle! New Allies! New Adventures!
"Klingon Awareness Week" was launched last year by STO player Powerhelm. The event was a remarkable success, with volunteers championing events — and players helping other players (and battling one another in relentless PvP and
PvE actions, too!)
With that same desire to draw attention again to the Klingon faction, "Klingon Awareness Week #2″ (KAW #2) was announced.
Whether you are new to Klingon play within STO, or a hardened veteran of glorious battles, you are going to be surrounded by member of the most glorious faction! The Klingon Faction!
Play* as one (or more) of these races:
Klingon
Gorn
Joined Trill (Past C-Store purchase)
Lethean
Liberated Borg Klingon (Lifetime subscribers only)
Nausicaan
Orion
Alien (Create your own Species!)
This STO community event** takes place entirely in-game on the Live Server (Holodeck), NOT the Test Server (Tribble). We know how Klingons feel about tribbles!
Sharpen your bat'leth! Enjoy bountiful servings of fresh gagh with your baked tribble! Slog down your finest vintage of bloodwine! Ready your crew and vessel! And immerse yourself in Star Trek Online's Klingon faction during KAW #2!
HONOR DEMANDS IT.
QA'PLA!
- Blastem_Blaster and Tucana


Link to the forum post
KLINGON AWARENESS WEEK #2 (KAW #2)

April 1-7, 2012
A STO Community Event, BY the Fans, FOR the Fans!

Learn more about this event via these Star Trek Online Forum links:
http://forums.startrekonline.com/showthread.php?t=259710
http://forums.startrekonline.com/showthread.php?t=263679">http://forums.startrekonline.com/showthread.php?t=263679
* IMPORTANT NOTE: All new players within STO begin as Federation characters. Players will be able to create a Klingon character AFTER they unlock the first sector block of Federation content. (Level 25 or higher. Their Klingon character will begin at a rank approximately equal to the Federation character that unlocked the content.) To participate in Klingon Awareness Week #2, you need to be logged in as a Klingon player.
** KAW #2 is not an official Cryptic Studios/Perfect World Entertainment event. It is being sponsored by players within the STO community.
*** Schedule is subject to change