By admin @ April 3, 2012 at 7:18pm

Alpha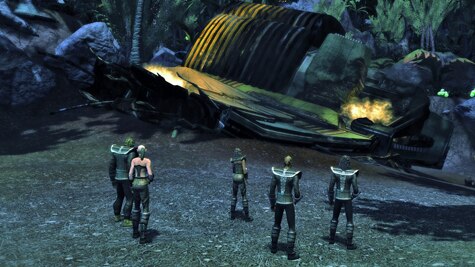 Qapla', Warriors!
Great news from the House of Cryptic has arrived today. Starting this Thursday, April 5, Klingon warriors will have access to a new episode titled "Alpha." This KDF-only mission has been designed for level-34 Captains and takes place in Romulan space in the Orith system.
Located in the Hyralan Sector of the Psi Velorum Sector Block, the Orith system is dominated by Orith Prime, a large hydrogen-helium gas giant with significant amounts of chlorine and sulfur in its atmosphere. In close orbit with Orith Prime is Orith II, a small M-Class planet covered in jungles and thick vegetation. Empire scientists say that the atmosphere on Orith II is not hazardous, although they speculate that the influence of the gas giant has led to unusual aberrations in the planet's ecosystem.
Intelligence reports indicate that Nausicaan pirates have taken up residence in clusters of asteroids drawn into orbit by Orith Prime's massive gravity well. Captains in the region are advised to use caution when exploring the region.
"Alpha" contains brand-new environments where adventure, encounters and challenges will be found around every corner – there are hidden areas to discover on the map, so take your time to explore thoroughly while on Orith II's surface.
This new episode also features voiceover and new rewards. Players who complete "Alpha" will be able to choose one of the following rewards:
Hirogen Tetryon Blast Rifle: A ground weapon with a fairly fast and strong bolt for its primary fire, but its secondary power is a small-radius explosion.
Klingon Intelligence Stealth Utility Armor: A set of physical enhancement utility armor that provides a bonus to all stealth and perception powers. Equip it to enhance your personal cloak or Shroud or to increase your ability to see enemies using stealth technology.
Also, Alpha features variations on how the story unfolds, but there is no right or wrong answer – the choices you make during the episode will allow you to play your KDF character as a ruthless pragmatist or an honorable warrior.
Today is a good day to die, warriors! Glory to the Empire!
We'll see you in-game this Thursday for the release of "Alpha."