By admin @ May 2, 2012 at 2:04pm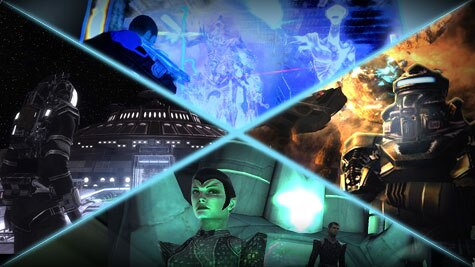 For the entire month of May, rotating each week, the Feature Episode Series are once again offering their special, unique rewards* for completion! Don't miss your chance to (re)play the Feature Episodes and earn limited-time rewards. Read more to learn about which series will be featured each week.
Check out our Feature Episode Guide to learn more about this special content.
May 3 – May 9: Spectres (The Devidians)
May 10 – May 16: Cloaked Intentions (The Romulans and Remans)
May 17 – May 23: The 2800 (The Dominion)
May 24 – June 6: Cold War (The Breen)
*The limited-time rewards are unique and each character may only have one of each of them.
This is a great opportunity for you to get the limited-time, unique rewards for your characters that did not have a chance to earn them yet. For players whose characters already have all the rewards, you will still want to re-play each of the series — all players will be able to find hidden, surprise rewards that have been added to each episode.
As always, thank you for your continued support. We'll see you in-game!