By admin @ May 29, 2012 at 7:16pm

Stalker Stealth Fighter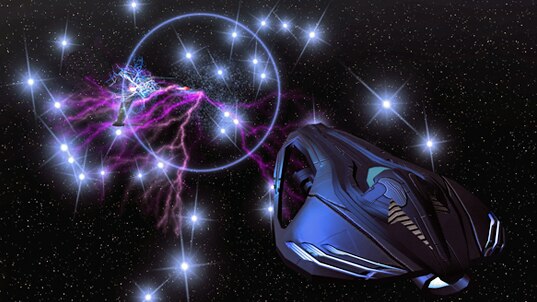 Starting this Thursday (May 31, 2012), a Stalker Stealth Fighter will be available for sale in the C-Store for 500 ZEN. This small craft is available only for Federation characters and includes a brand-new Thoron Generator Module that may be used on other small craft. Here is more information:
The Stalker Stealth Fighter is a small warp-capable ship. Like most fighters, it is fast and maneuverable. It has one Ensign Universal Bridge Officer station. The Stalker's primary weapon is Tetryon Turret that increases in effectiveness with level.
Primarily designed as a stealth fighter, the Stalker's energy signature is very low and it is hard to detect at long distances until it attacks. It is also equipped with a Thoron Generator Universal Console Mod. This console can generate a pulse that deals moderate damage to an enemy, but also drains the target's Auxiliary Power and may take its Auxiliary Subsystems offline. There is also a chance the Thoron Pulse will jam the target's sensors, making it even harder for the target to detect the Stalker.
All equipment that comes with the Stalker Stealth Fighter can only be used on other small craft.

Hull Strength: 5,500 (increases as you level)
Shield Modifier: 0.5
Weapons: 2 Fore
Device Slots: 1
Bridge Officer Stations: 1 Ensign Universal
Console Modifications: 1 Tactical, 1 Engineering; 1 Science
Base Turn Rate: 31 degrees per second
Impulse Modifier: 0.28
Tetryon Turret that increases in effectiveness as you level
Quantum Torpedo Launcher that increases in effectiveness as you level
Thoron Generator Module
Low Energy Signature
+5 Weapon Power
This shuttle also includes a Non-combat Stalker Stealth Fighter pet that can be launched from your starship.