By PWE_BranFlakes @ June 26, 2012 at 5:19pm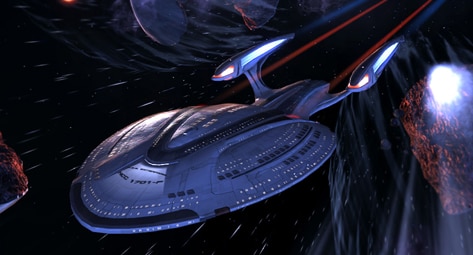 Hi Captains,
Now that we are about a week into the website conversion and things are (slowly, but surely) starting to get back to normal, I wanted to take a few minutes of your time to talk to you. I speak to you today not only as your Community Manager, but as a fellow Star Trek Online player (2008 forum join date, lifetime subscriber, playing since Closed Beta).
Last week, the Community experienced a big out-of-game change: the port of the STO website to the Perfect World Entertainment (PWE) framework. This change involved a site redesign, a different version of the forums, and account merging. This is a big change to undertake at one time, and I can tell you that it was definitely no small task for all parties involved, including our players. As a long-time player myself, I can empathize with you in that change can be hard to adjust to, especially when you've been used to something for so long.
It's important to note that these changes were/ are being made for business and technical reasons, and to further the integration of PWE and Cryptic. Since PWE is the publisher for Cryptic games (and almost a dozen other titles), bringing all game sites to the PWE framework allows for the teams involved in the publishing of them to work more efficiently together. This in turn provides a better experience to our players, including more features and benefits that can and will be introduced.
I also want to let you know that your feedback is important to us and that we are listening and taking note. We recognize that next to the actual game, the site and forums are typically the next most important aspect of a MMO. I'm not sure if you've seen this Community-created thread, but, as you can see, the Web Team and I have been responding to and remedying concerns as fast as we can. Please feel free to post any site/ forum functionality concerns that come up in that thread and we will continue do our best to address them.
You may have not seen the news yet, but I wanted to let you all know that we just announced that a similar change will be taking place over at the Champions Online site and forums in just a couple days. I know the first question that probably came to mind when you read that is "Why didn't we get advance notice?" The Champions Online community is receiving this news because of the feedback you have provided this past week, and based off what we've learned from the experience of porting STO. While this does not go back to change the fact that this community did not learn about the change until after site maintenance was complete, we've listened, are responding, and are taking your feedback into consideration.
In closing, I want to reaffirm that we will continue doing our absolute best to resolve issues that are brought up, as well as to provide support and answer additional questions as we warp into the future.
Thanks for reading, and I'll see you in the forums and in-game. LLAP!
Cheers,
Brandon "BranFlakes" Felczer
Community Manager
Star Trek Online
P.S. Here is a collection of FAQs/ articles that have been posted recently:
Account Linking Article: http://sto.perfectworld.com/news/?p=570451
Account Linking FAQ: https://support.perfectworld.com/app/answers/detail/a_id/4134
Account Linking Promo: http://sto.perfectworld.com/news/?p=569601
Cryptic Points Conversion FAQ: https://support.perfectworld.com/app/answers/detail/a_id/4136