By PWE_BranFlakes @ August 21, 2012 at 12:15pm
Federation Costume Pack: The Next Generation, Season One
Boldly wear what no one has worn before… well, at least in the last 45 years.
Starting this Thursday (August 23, 2012), around 10AM PDT, adventure throughout the STO galaxy wearing the uniforms inspired by the first season of Star Trek: The Next Generation!
Federation Costume Pack: The Next Generation, Season One (550 Zen)
This costume pack features the Admiral's jacket and pips from 2364. As an EXTRA BONUS, you'll also receive the 2364 Standard Uniform and rank pips!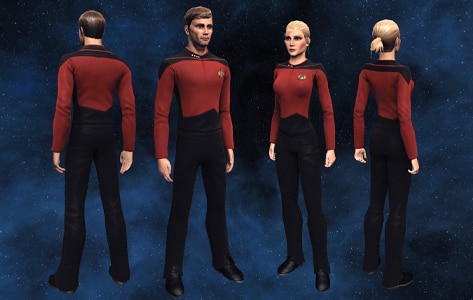 Note: Costume pieces from this pack may be used only in uniform costume slots. Purchase of this option unlocks these costumes for every Federation character on an account. Once unlocked, you can access these costume pieces at any tailor.