By PWE_BranFlakes @ August 28, 2012 at 12:00pm
Racing Uniforms
This racing jumpsuit is an STO team favorite. Its crisp, clean lines produce a nice shape on characters, and the high contrast color scheme – white shoulder bar, black and grey paneling and burgundy trim – give it a really dynamic feel. It was first seen in an episode of Voyager called "Drive" (Season 7, Episode 3).
In the episode, Tom and Harry enter the Delta Flyer II into the first-running of the Antarian Trans-stellar Rally: A 2.3 billion kilometer race that is supposed to give the species in the area something to do besides fight each other. Tom thinks it'll be a great way to put his new hot rod through its paces, while Captain Janeway sees it as an opportunity to be all Starfleet-y, so she lets him – she does tell them they'd better win, though. B'Elanna is not cool with it because Tom and she had plans and, of course, Tom forgot. I can't remember if they win or not but I do remember the pop-up impulse thrusters and Irina's gold pants (maybe we'll make that costume someday!).
If you're the kind of Captain that likes ripping around the galaxy in your 25th century hot rod, then this is the suit for you and your crew! They will be available for purchase in the C-Store starting this Thursday (August 30, 2012) around 10AM PDT.

—–
Racing Uniforms (550 Zen)
As seen in the Star Trek: Voyager episode "Drive," these uniforms are the perfect look for your next interstellar race rally! This costume pack includes a jacket and pants.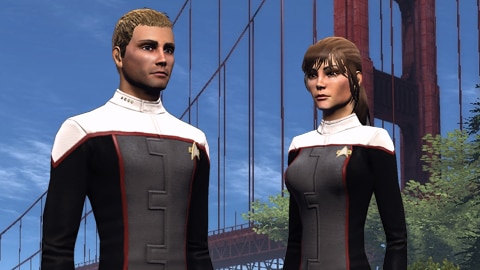 Note: Costume pieces from this pack may be used only in uniform costume slots. Purchase of this option unlocks these costumes for every Federation character on an account. Once unlocked, you can access these costume pieces at any tailor.
We hope you enjoy these new uniforms and we'll see you in-game!
Jeremy Mattson
Art Lead
Star Trek Online