By PWE_BranFlakes @ October 2, 2012 at 12:00pm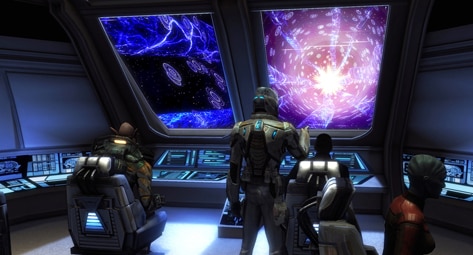 Our account linking promotion is ending soon, and account linking will become non-optional. If you have not already, link your Cryptic and Perfect World accounts today to receive a special in-game promotional item for one of your STO characters:
Perfect World Account Link Reward
If eligible (see details below) and you have not claimed your reward before, you will be able to claim this item through the in-game C-Store, under the 'Items' tab.
Reward contains:
• 5,000 Unrefined Dilithium Ore
• A consumable item that grants 2,500 EXP (or Bridge Officer skill points if your character is at max level)
• A random Rare or Very Rare weapon, scaled to your level (space or ground)
• A pack of random 'Self' Dual Consumables
• A pack of random 'Team' Dual Consumables
NOTE: This item may only be claimed once per account. If you claim it on one character, you will not be able to claim it on a different one. This promotion originally started on June 19th, 2012, so you may have already taken part in this promotion and claimed your rewards in-game.
During this promotion, anyone who links their Cryptic Account to a Perfect World Account, or has linked their accounts in the past, is eligible to receive this promotional item. This promotion is currently not available to those who choose not to link their account or who don't have a Cryptic Account to link to their Perfect World Account.
To link your accounts, click "Register/ Login" at the top of any page, and then click "Are you a Cryptic user?". This will take you through the linking flow, and will also allow you to create a Perfect World Account if you do not have one already.
If you choose not to link a Perfect World Account your Cryptic Account at this time, you can do so in the future by signing into the website and clicking "My Account" at the top of any page.
More information about the account linking process can be found here.