By PWE_BranFlakes @ November 2, 2012 at 1:00pm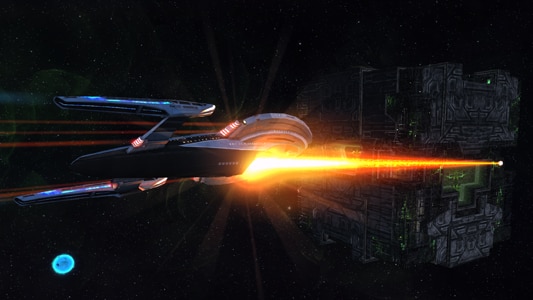 Greetings!
As we approach our 3rd Anniversary, the STO Team is thrilled that Season 7: New Romulus is almost here. In recent weeks, we've seen a steady stream of blogs discussing the new features and content, and some of you have taken advantage of our public test shard to check out these new additions for yourself. We still have a little ways to go, and some feedback to incorporate, but for the most part, we are on track for release in the first half of November.
Season 7: New Romulus offers great new missions and personal progression features designed to complement the Fleet System introduced in Season 6. It is the first time we've revisited the STFs and end game rewards since they were introduced in Season 1 and 2 shortly after the game launched. With this new season, we feel that max-level, Borg related STFs, and Vice Admiral/ Lieutenant General rewards will be finally be in a place where we can move forward towards higher ranks in the future.
It also represents a return to the story of what has happened to the Romulans after the destruction of their homeworld. It sets a stage that will allow us to dive deeper into the conflict that is at the core of the STO storyline. By focusing on the internal strife between the fractured factions of the Romulan Empire, captains will vie for the support of the New Romulans much in the way that the Federation and Klingon Empire campaigned against one another in such episodes as "Friday's Child" and "Errand of Mercy".
That is why the biggest new feature in Season 7: New Romulus is… New Romulus! Surprise!
New Romulus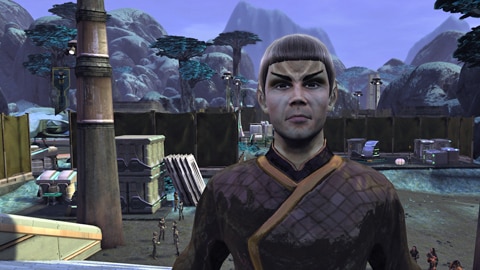 This new large persistent Vice Admiral/ Lieutenant General adventure zone offers captains on both sides of the conflict the chance to aid the Romulan leader D'Tan as he locates a new homeworld for Romulan refugees and begins the process of building a city that Romulans and Remans can call their new home.
Overview
Designed for max-level captains of both the Federation or Klingon Empire
Zone challenges balanced for captains plus one away team member
Earn Reputation tier to unlock full away-team missions to help uncover the planet's troubled past
Area events provide quick Reputation gains for cooperative groups
Obtain new special rewards and gear sets as a benefit for aiding the people of New Romulus
Whether captains help out on the planet surface or in the surrounding sector, many new repeatable missions will allow captains to gain favor with the people of New Romulus and tactical advantages their friendship would provide.
This represents the largest planetary zone the STO team has ever built and introduces open questing where all positive actions taken in the zone increase favor gained with the area's quest giver. This allows for repeatable missions where captains can decide how they want to help instead of traditional "kill 10" or "collect 100" quests. This new type of open mission applies both to the planet as well as the surrounding sector.
We wanted the Romulans to be the focus of this season because New Romulus will also play an important role in Season 8. Perceptive captains may even notice the city begin to grow and take shape over the course of the season. It is important that captains participate in all the challenges that exist on New Romulus and take an active role in discovering the history of this planet. By doing so, they will unravel a mystery that will advance the story of STO to the next chapter and set the stage for a future Feature Episode series and future seasons.
Personal Advancement System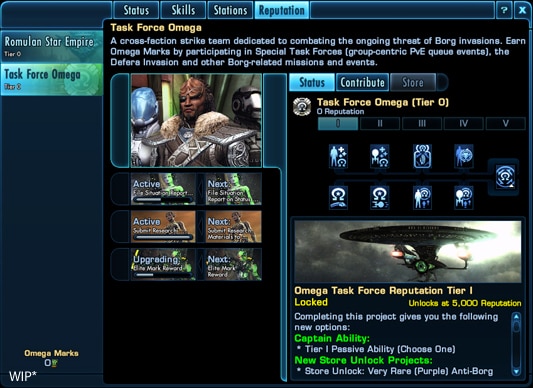 *subject to change
The next big feature of Season 7: New Romulus is a system that introduces a way for max level captains to continue to advance their skills and career by building Reputation with different groups within the game. This feature closely resembles the Fleet System because it was designed in tandem with the feature that was introduced in Season 6. Each new Reputation will provide a choice of Captain skills at each tier as well as provide a clear progression towards the best gear in the game.
Overview
New Captain Skills can be selected at each Reputation Tier
Play related missions to earn Marks needed to increase Reputation and unlock new reward tiers
Acquire special gear sets and end game rewards through Reputation projects
See clear progress towards obtaining specific gear sets
"Into the Hive" (Ground) and "Hive Onslaught" (Space) – two new STFs allow captains the chance to face off against the Borg Queen to earn Task Force Omega Reputation
"Mine Trap" – Survive a colony overrun with Salt Vampires in this 20-captain ground Fleet Action to earn New Romulus Reputation
The first two Reputations we are introducing are the Romulan Star Empire and Task Force Omega. With this system in place, we will continue to introduce new Reputations with new unique Reward Sets as the game progresses.
We decided to make Task Force Omega one of the first Reputations so that the premium rewards associated with the Borg STFs are in line with our future design goals around gear availability and gear progression. This also gives us the opportunity to complete the remaining STFs that have been sitting on the shelf since Season 1, and finally allow captains to face off against the Borg Queen. After nearly two years of showing off screenshots of the Borg Queen, she will be in game to provide a finale for the Task Force Omega storyline.
It is important to note that as part of the Task Force Omega Reputation system, we will be making several significant changes to how the rewards associated with STFs are obtained. All existing gear rewards captains have earned through STFs will stay put, but in the future, players will need to earn Reputation with the Task Force Omega before they can acquire more this gear. For more information about changes coming to the STFs, please check out this Season 7 Dev Blog.
The Tholian Threat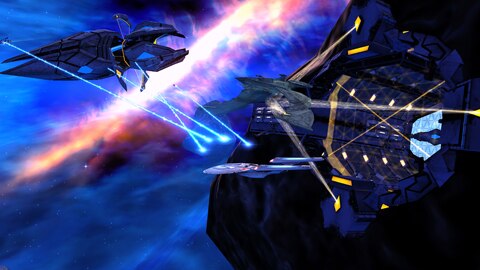 Introduced in Season 6, the Tholians have been sneaking about in the Nukara System and have been growing bolder to date by attacking Fleet Operated Starbases. In Season 7, captains will undertake missions to stop the Tholians from stealing technologies associated with the Vault and the Romulan Fleet, and learn that the Tholians are even lurking about on New Romulus.
Overview
"Azure Nebula" – Rescue captured starships from a secret Tholian base in this 5-captain space Event
"The Vault: Ensnared" – Help Obisek defend the Vault from Tholians in this 5-captain space Event
Tholians are on New Romulus! Unlock missions through the Romulan Star Empire Reputation to uncover why they are there
The Tholians are clearly up to something and their involvement in the story will become clearer as players uncover more of the mysteries of New Romulus. Captains will earn Reputation with New Romulus by attempting to foil any of these Tholian threats. These new PvE Events also allow us the opportunity to show off one of the more challenging space faring factions in the game where players will need to avoid being ensnared in Tholian webs.
Other Improvements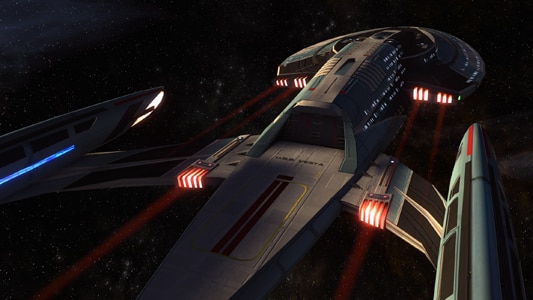 As with previous updates, Season 7: New Romulus brings with it overall improvements to the core game. Here are some of the other updates that are included with this season.
Overview
Foundry Spotlight missions now receive special billing in the Mission Journal as well as improved rewards
Federation Captains can now purchase the "Vesta Class" starship designed by artist Mark Rademaker and featured in the "Destiny novel" series
Improvements to the PvE Queue which allow captains to see Reputation and Fleet Rewards offered by each mission
Captains may now select a default small craft to be used in small craft only missions
It is worth noting that many of these features and updates were born out of Feedback provided by players and represent overall improvements to STO. If you ask any of the fans-turned-employees on the team, you can have a big impact on STO by voicing your opinions and providing constructive feedback on how to make STO better than ever. Thank you to those who provided the suggestions that led to the features above.
What's Next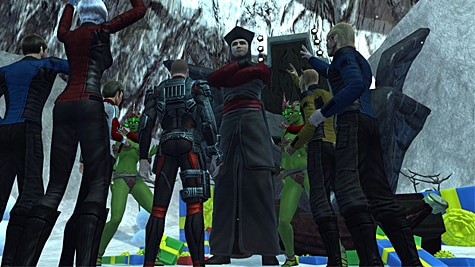 Season 7: New Romulus is on the way and the team is excited that players will soon be able to see the next chapter of Star Trek Online unfold. Until the update is officially "done", we will continue to update the Tribble public test server with updates to the season. Based on feedback players have given us thus far, we do anticipate that there will be additional changes and tweaks made to the overall Dilithium, Fleet, and Reputation economies in the game in order to bring gear prices in line across the board. Keep an eye on the Tribble patch notes as we quickly make adjustments and changes prior to the season launch in November.
Coming up in December, Q will be reintroducing the Winter Event with some new rewards and activities that he's cooked up for captains. As we move into the New Year, we will start to give some sneak-peeks related to our 3rd Anniversary Event scheduled to launch in early February. As an early teaser, this year's anniversary will have its own special Feature Episode and reward, so stay tuned for more info on that.
After the big event in February, we will begin to share some of the exciting details about Season 8 and how it will begin to resolve some of the long standing issues surrounding the two factions within the game.
We cannot begin thank you enough for your continued support of Star Trek Online. As the game continues to grow and evolve, we look forward to bringing you many more seasons of fun Star Trek gameplay. You are a big part of the game's success and we give you credit for helping to make this the best Star Trek game ever.
See you online!
Daniel Stahl
Executive Producer
Star Trek Online