By PWE_BranFlakes @ November 13, 2012 at 6:15pm
Season 7 Launch Dilithium Changes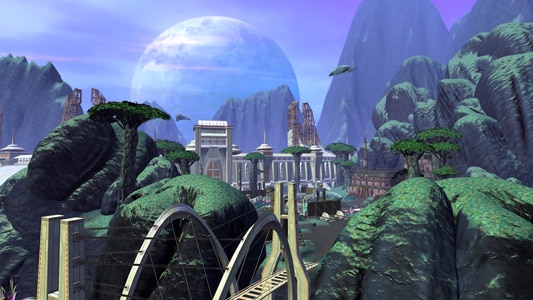 EDITOR'S NOTE (11/14/2012): Some information in this blog has been updated. Changes are denoted with a "*".
Hi Captains,
We've been seeing many questions today regarding the Dilithium changes that went live with Season 7 — this blog will answer your questions and provide some insight into the changes.
Where Did All the Dilithium Go?*
Short answer – Dilithium Ore is available as a reward directly from STFs and Fleet Action runs, and indirectly from Reputation projects. If you want to know more, then please read on.
But first, before we get to the changes in Season 7, let me take the opportunity to give some details about Dilithium.
What is Dilithium?
Dilithium Ore is an in-game currency that is given out as a reward for completing missions of Cryptic's choosing. Dilithium Ore may be converted to Refined Dilithium – the currency needed to obtain premium gear or starships.
Refined Dilithium differs from energy credits because there is a maximum cap that can be obtained by any character per day of 8000 Refined Dilithium (8500 for 800 day subscription veterans or lifetime subscribers) . This cap serves two purposes: to keep players on equal footing in the acquisition of Refined Dilithium (vital to the player-to-player trade economy) and to prevent or catch potential exploits.
What is the purpose behind Dilithium?
In our game design, Dilithium represents time invested in playing a variety of select missions in STO. By setting the max cap per day, obtaining large amounts of Refined Dilithium requires logging in regularly and engaging with missions and systems that the STO team has designated. The STO team has consistently ensured that there is enough missions and systems in the game that any player should be able to earn 8000 Dilithium per day if they focus on Dilithium based missions for about 4 hours. By the way, the average level 50 player plays approximately 3.5 hours on a given day.
This is why we often refer to Dilithium as a time currency – because all it takes to acquire Refined Dilithium is time. If characters are willing to invest time to obtain Dilithium, then they will be able to acquire some of the best rewards in the game. So play the game and you can earn these rewards. It really just takes time. This is an intentional part of our free-to-play game design. Anything in the game or even the C-Store can be earned if you simply play the game and earn enough Dilithium.
How much Dilithium should a character need?
This all depends on the quality of the gear you want your character to have. Another way to look at it is – the better the gear, the more Dilithium it will cost, and thus the more time it will take to earn.
End game gear prices range depending on the mark quality and exclusivity of the piece. For example, Ground Armor ranges from 6,300 Refined Dilithium up to about 16,800 Dilithium for Mk 12 Premium Set Ground Armor. More critical gear such as Space Impulse Engines can range from 37,900 Refined Dilithium all the way up to about 84,000 Refined Dilithium for a Mk 12 Premium Set Impulse Engine.
When measured against the max refining cap of 8000 Dilithium per day, it means that a player may need to invest about 5 days at 4 hours per session for the best MK 10 Purple item, and well over 10 days for the best Mk 12 Purple item (even more if you the item is part of the Fleet or Reputation tiers).
The only other reason that players may need more Dilithium is if they are in a Fleet as nearly all Fleet Projects require a significant amount of Dilithium that is meant to be a shared cost across all Fleet Members. The gear and starships offered as rewards from Fleet Projects are intended to take significantly more time due to the time involved in leveling up the Starbase. The reason why some top end Fleet gear costs less Dilithium in the store is because of the inferred Dilithium cost in leveling up the Fleet Holding.
So how much Dilithium do you need? It all depends on the quality of the gear you want and how much time you are willing to invest to get it. It is our design goal that players who spend the most time earning and refining Dilithium in the game will have the best gear and access to Dilithium ships. This is the reward for the investment of Time.
To sum it up – we expect it to take several months of playing the game regularly for several hours per session in order to outfit a captain and crew with the best gear in the game.
Pre-Season 7 Dilithium Concerns
As we approached Season 7, we spent a lot of time reviewing the Dilithium economy and evaluating changes that needed to be made based on the following concerns:
Concern 1 – Active level 50 players are refining far less Dilithium than we expect them to.
Prior to Season 7, the average amount of Dilithium refined by an active level 50 player was 3100 per session or 13,250 per week. That is far less than the cap of 8000 per day when you consider that most level 50 players play multiple days per week and slightly more than the average hours per session.
Concern 2 – Several missions were rewarding far more Dilithium than they should have.
We have a guideline for how much Dilithium should be earned based on effort and time spent, and there were several missions that were clearly outside of our guidelines and players were using these missions to earn more Dilithium than we intended.
Concern 3 – New gear being created was not in line with other pricing
With all the new gear in the game, gear pricing needed a balance pass to ensure that the amount of Dilithium required for similar gear was consistent across the game.
Season 7 Dilithium Goals*
With those concerns in mind – here are the goals we set out to accomplish in Season 7.
Make Dilithium more available to all level 50 players – not just those playing on elite – by increasing the average amount of Dilithium earned. We want the average amount of Dilithium earned by all level 50 players to exceed 13,250 per week and will be monitoring and adjusting Dilithium rates to ensure this happens. This also means moving additional Dilithium rewards to missions that are more accessible to the average player (Normal Fleet Actions) and away from Elite only STFs. STFs will still reward Dilithium but at a lesser rate than before. Both STFs and Fleet Actions reward Dilithium each run.
Make Dilithium rewards balanced and consistent. No specific content should be aberrantly more efficient than others. We will be removing or adjusting reward tables anytime we find missions that are allowing players to earn Dilithium at an aberrant rate.
Ensure that the costs for obtaining similar types of gear from the Fleet System, Reputation Systems or Dilithium Stores are balanced and consistent within our expectations for how long it should take to obtain the best gear in the game. We will continue to monitor and adjust store prices as necessary to keep this balance as new items are added to the game.
How Dilithium rewards changed in Season 7 to meet these goals
We reduced the amount of Dilithium required for Fleet Holding progression.
Dilithium requirements were reduced by 10% for Tier 4 Advancement Projects and 20% for Tier 5 Advancement Projects. While not many Fleets had yet to obtain a Tier 4 Starbase, this is a significant adjustment from Season 6 project Dilithium requirements to help Fleets complete the last two tiers of their Starbases. We will continue to monitor Fleet progression and adjust if we feel further changes are necessary.
Fleet Actions now reward Dilithium in addition to Better Gear*
Fleet Actions (such as Starbase 24, Gorn Minefield, etc) now award between 480 and 640 Dilithium (this will be in flux as we adjust rates) to ensure that the average level 50 player is earning more Dilithium by playing missions more accessible to the average player. In addition, Blue and Purple gear is now more reliably earned in Fleet Actions.
Smaller Dilithium rewards per STF runs and now indirectly via Omega Fleet Reputation projects*
After reviewing our data and goals for Season 7, we've made the decision to reduce the amount of Dilithium that is direct reward from STFs. While we initially removed it altogether, the Omega Fleet predates the Reputation system and so we've reinstated Dilithium as a reward per run, albeit at a lesser rate. We've agreed that it is ok for Omega Fleet related missions to grants Dilithium whereas other Reputation related missions may not. In addition, STFs will reward Dilithium indirectly via Omega Marks and Borg Neural Processors (Elite only) through repeatable projects in the Omega Fleet Reputation system.
Normal STFs*:
480 Dilithium
Approx. 20 Omega Mark per STF (Varies per STF)
Bonus Objective: +25% more Omega Marks
Elite STF Runs*:
960 Dilithium
Approx. 60 Omega Mark per STF (Varies per STF)
Bonus Objective: +25% more Omega Marks
1 Borg Neural Processors
Conversion Rates:
Once you have finished Tier 5 in a Reputation systems, you can convert Omega or Romulan Marks into Dilithium by running Reputation projects:
At any tier in the Omega Reputation system, you can convert Borg Neural Processors into Dilithium by running Reputation projects:

10 Borg Neural Processors = 1000 Dilithium
The Double Dilithium Reward for B'Tran Exploration has been removed
The B'Tran Exploration Daily no longer awards Dilithium, but the Explore Strange New Worlds daily still awards 1440 Dilithium.
This is a case where there ended up being two nearly identical missions in the game that were both rewarding Dilithium for the same mission. We have finally fixed this. You can still earn 1440 Dilithium at B'Tran by taking the Explore Strange New Worlds daily and running the B'Tran cluster.
Increased The Dilithium Earned in the Dilithium Mine Event
Asteroid Dilithium Mine daily now awards more Dilithium. Base rewards were increased by 25%. Bonus hour rewards were increased by 33%.
Dilithium for Foundry Play requires you play qualified missions
The Foundry Daily that rewarded Dilithium was not checking if the mission was "qualified" with an average completion time between 15-20 minutes. You can no longer play short and exploitable Foundry missions to earn the 1440 Dilithium reward. The Foundry mission must first qualify to award the daily Dilithium reward. The reward was not changed.
The Academy Anomaly Mission Must Now Be Played as Intended
Previously a player could scan an anomaly, and if an enemy emerged, they could stun or simply run away from that enemy and scan another anomaly. This would allow players to collect more anomalies, which are turned in for Dilithium, at an unintended aberrant rate. You must now first defeat an enemy target before scanning another anomaly as was intended.
Omega Force gear now costs Dilithium similar to other Premium Gear
Omega Force gear now costs Dilithium similar to the new Romulan Reputation Mark 12 gear. The Dilithium costs is still significant less than Mark 11 gear in the Dilithium store(about half of Mark 11 gear) because cost is mitigated by the requirements of other currencies such as Marks. This brings this gear in line with the cost of other end game gear and in line with our expectations for how much time should be involved to obtain it.
Duty Officers Obtained through Reassignment were undervalued
The Duty Officers that could be purchased through Reassignment were greatly undervalued when compared to their true value as dictated by the price of a Duty Officer pack or their need in Fleet Holdings. In order to make these officer a fair comparison to officers obtained by players purchasing Duty Officers via C-Store packs, we increased the amount of Dilithium needed to reassign.
We Will Continue to Adjust the Dilithium Economy as Needed to Hit These Goals
We take the changes we are making to Season 7 very seriously and we will continue to adjust as needed. We are committed to ensuring that all players have better access to end game rewards while maintaining our expectations for the amount of time and effort required to obtain them. If we find other missions that are rewarding Dilithium at an aberrant rate or if we find players exploiting bugs to earn Dilithium, we will take action.
How does Dilithium Trade factor into all of this?
While the Dilithium Trading economy is entirely the realm of players trading with other players, our goal with the Dilithium changes in Season 7 is to stay out of the way as much as possible while increasing the amount of Dilithium earned on average by level 50 players.
We expect the market to fluctuate as players find the new balance, but in general we want players earning Dilithium to get a decent amount of Zen for their trade so that players who are putting in the most effort to earn Dilithium can find a market to trade the time they've spent in the game for Zen.
Our expectation is that the Season 7 Dilithium changes will have minimal impact once the changes are fully realized and players are understanding of how things have shifted. We will continue to monitor the Trade data to ensure that the Trade market stays solid, but ultimately we leave it up to players to determine the trade values.
Thank you and I look forward to seeing you in-game.
Daniel Stahl
Executive Producer
Star Trek Online