By PWE_BranFlakes @ December 19, 2012 at 11:30am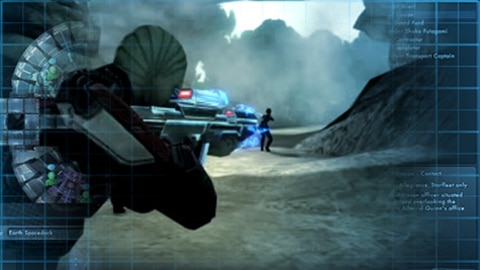 Calling all Foundry players and reviewers!
From today until Wednesday, January 9th, at 10AM PST, voting is open for Foundry Challenge #5!
Since early October, Foundry authors have been storyboarding, developing, and designing Foundry missions for our most recent challenge, And Now the Continuation. More information about the challenge can be found here.
The following is a list of submitted missions to be reviewed — if you are going to play them and vote, we ask that you please give everyone a fair chance and play through each mission. They should all be around 30 minutes of gameplay, but should take no longer than 45 minutes to complete. If you can play and complete one mission a day/ every-other day, you will be able to play them all before the voting period ends.
Once you have played through them, please send an in-game mail to @PWE_BranFlakes (STO's Community Manager) with the one (1) mission you feel should win this month's challenge. Unless you play through all of the missions pretty quickly, he should not be getting votes until late next week/ the week after that.
You may only vote once and, if you are one of the participants, may not vote for your own mission. Rallying people from your fleet/ friend group to vote for your, or any other, mission is discouraged and should be apparent from the votes that come in — encourage them to play through all of the missions and really choose the one they feel best told the story. This is all for fun, and while there is a small prize to be awarded to the winner (STO Promo Points for the C-Store and their mission featured in the spotlight), we know all of us are ethical, honest Trekkers and Trekkies.
For information about the Foundry, and how to play missions, check out this Guest Blog by StarbaseUGC.
So, without future ado, here is the list of entrants (along with the background story):

And Now the Continuation:
Last time on Star Trek Online…
STO has had some amazing Feature Episodes (click here to view the 4 series) created since launch. Each series has had 5 episodes, but there is an untold story after each of them. Your mission, should you choose to accept it, is to create the lost 6th episode of the series of your choosing.

Foundry Challenge #5 Entry Missions:

Mission Title: Cold Reflection
Player @Handle: @sbcouto
Faction: Klingon
Level Requirement: 35+
Mission Summary: With the death of Thot Trel and the Breen's failed mission, you venture forward into a list of military successes by defeating the Devidians, the assault of the Romulan Vault and the stopping of the 2800… But then the Klingon Empire calls you to the front lines to face the full force of Starfleet's Elite. Death is all but guaranteed.
Mission Title: Cold Enemies
Player @Handle: @Q400
Faction: Federation
Level Requirement: 35+
Mission Summary: The Breen are after the Vault. After the failed preserver mission, and the Breen – Sona' war, the Breen are weakened. The Vault holds the key for the Breen's domination of the galaxy!

Mission Title: Sanctuary for the Lost
Player @Handle: @maquis
Faction: Federation
Level Requirement: 31+
Mission Summary: It has been a month since Kar'ukan was killed in the battle to retake Deep space nine, At the end of the battle Loriss and the founder returned to the gamma quadrant with most of the Jem'Hadar that were displaced by the prophets but several hundred ships refused to return with them.
They have begun to raid ships passing through venerable systems in the Cardassain Union Starfleet, the Klingon defence forces and Cardassia have put together a taskforce to stop these lost soldiers.
The displaced Jem'Hadar have been marauding around an area suspected to be sympathetic to True way terrorist group, even though these lost warriors can hold their own they are no match for war ships with 30 years of more advancement.
Starfleet has ordered they be stopped with diplomacy if possible but with violence if only absolutely necessary, the taskforce will deploy from Deep space nine.


Mission Title: Spectres, Episode Six
Player @Handle: @HippieJohn
Faction: Federation
Level Requirement: 16+
Mission Summary: The U.S.S. Rueben James, NCC-1707 was lost 145 years ago in 2265 in the Sherman System in an engagement with Klingon Forces. Could one of the first major Starfleet losses during the early days of space exploration be your fault ? And will a daring mission to the past with your crew be the only way to set the timeline right ?
Mission Title: Beneath The Raptors Wing
Player @Handle: @rickysmith1
Faction: Federation
Level Requirement: 31+
Mission Summary: Earth Stands Alone; the Earth-Romulan War has cost millions of lifes and reshaped this part of the Milky Way for eons, but what happens when your ship is used to avert one of the most climatic battles in history into their favour?
Can you alone save the Legends of Starfleets History and restore the Federation before the Romulans conquest of the Alpha Quadrent is realised?

Mission Title: Imperium
Player @Handle: @Soriedem
Faction: Klingon
Level Requirement: 16+
Mission Summary: Councilman Cha'lak has a mission for you based on your experiences on Nopada. The Empire's Sensor Specialists have gone over your records from that day with a fine tooth comb, and they have spotted something. He won't tell you what it is, until you're on your way. However, he did say that it's something that they had lost. What could it be? The Mission begins on Hatoria in Pi Canis Sector Block.



Mission Title: Echo's in Time
Player @Handle: @Kahn
Faction: Federation
Level Requirement: Any
Mission Summary: Time is saved from the Devidian threat, but what of the countless lives your mission into the past has affected? What possible futures has your presence altered, and what can be done to correct it? The Department of Temporal Investigation has launched an investigation into your actions, and it's up to you to correct your mistakes.


Mission Title: Diplomacy in the Gamma Quadrant
Player @Handle: @Marhawkman
Faction: Klingon
Level Requirement: 35+
Mission Summary: Orions are not the best warriors but they are skilled traders. Melani Di'an has convinced the high council that it is time to attempt to open trade negotiations with an old enemy. The task the High Council has given you is to make contact so that the negotiations can actually begin.


Mission Title: Time and Time Again
Player @Handle: @mmotnahp
Faction: Federation
Level Requirement: 31+
Mission Summary: The Delvidians may still be present on Drozana station. Their plans in the past may have failed, but that doesn't mean they're not going to try again in the present.
Proceed to Drozana station and scan the station for any remaining Delvidians or any signs of temporal disruptions.
We believe what you're looking for may be in the northern part of the station inside a cargo crate.


Mission Title: Rode the Six Hundred
Player @Handle: @afalconer
Faction: Federation
Level Requirement: 31+
Mission Summary: Two weeks after the reclaiming of Deep Space Nine from Kar'ukan's forces, the worm hole opens once more with a new threat. Not all of Kar'ukan's forces were defeated when Deep Space Nine was liberated, and they are hatching a threat to the Alpha Quadrant and even to the gods.


Mission Title: Dark Alliance Part 1
Player @Handle: @Skydawn
Faction: Federation
Level Requirement: 16+
Mission Summary: During a rescue operation of the U.S.S. Bastion, the pursuit of an unknown enemy toward earth leads your to discover a conspiracy that could unravel the basis of time itself. The quest to stop these powerful fanatics begins here.

—–
Feel free to continue using this thread to discuss the missions above.
Good luck to all of our authors, and for our reviewers, have fun and boldly go!