By PWE_BranFlakes @ December 28, 2012 at 11:00am
A Klingon Honor Carol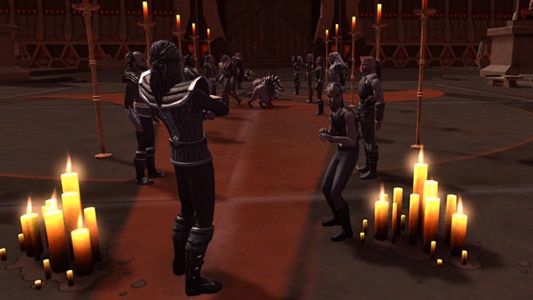 The Foundry for Star Trek Online gives players a chance to create and share their very own stories with the world. These Spotlight Missions were designed by members of the Star Trek Online community and are great playable examples of what you, too, can add to the Star Trek Online universe.
This week's spotlighted mission is "A Klingon Honor Carol" by soriedem.
Faction: Klingon
Level Requirement: 31+
Mission Summary: "A Klingon Honor Carol" is loosely based on Charles Dickens's 'A Christmas Carol', but with a Klingon twist. It is narrated by Worf and the player takes the role of a dishonorable Klingon Warrior named Scourge.
To play this Foundry mission, log onto a Klingon character, open your Mission Journal (J), and click on 'Hail' under the section labeled 'FOUNDRY' in the "Overview" tab. You will see that this Foundry mission is spotlighted in that section.
For more information about the Foundry, including how to play community-authored Foundry missions and resources on how to create your own mission, check out this Guest Blog.
Foundry Spotlight Missions Index