By PWE_BranFlakes @ January 4, 2013 at 11:00am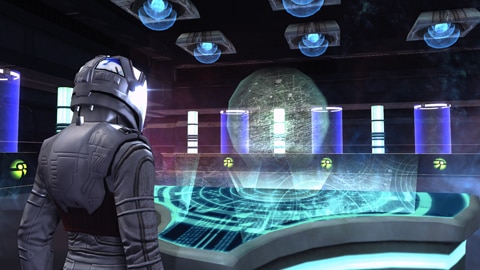 We have started adding past spotlighted Foundry missions to the 'Spotlight Missions' archive in-game! Over the next couple of weeks, as past spotlighted authors continue to submit their mission for featuring in the in-game journal, we will be populating the archive with more of your past favorites.
This week's additions include:

Relics by Kirkfat
Federation Faction
The Klingon Empire is occupying a planet for unknown reasons. You are sent to investigate why the Klingons are so concerned with a world of insignificant military value. What you discover will alter your conceptions of the past and the present.

Stray Dogs by drkfrontiers
Klingon Faction
During the height of the Gorn Wars, a renowned Klingon Fleet, Wing 327, disappeared without a trace. For months afterwards, the Klingon Defense Force scoured the galaxy in a vain effort to discover the fate of the once mighty fleet. You and your crew have been ordered to investigate rumors of the recent sighting of the fleet, along with the mysterious marauder attacks along the frontier.

Keeping Up With the J'Sens by Castmodean
Federation Faction
The J'Sens, a non-aligned race, have asked the Deferi for aid in resettling a remote colony away from the front lines of the Federation/ Klingon conflict. The Deferi Ambassador to the Federation has requested assistance in fulfilling this mission.

The Honour of Profit by Bazag
Klingon Faction
Just how much honour is there in seeking profit? Is profit its own reward? In this mission, explore the seedy side of the Klingon Empire with Ferengi Merchants, shady Orions and the well-known, one-of-a-kind Varon-T Disruptor.

Checks and Balances by mygod_itsfullofstars
Federation Faction
In the shadow of the Borg invasion of Defera, you are called on to protect the Preserver archive at Lae'nas. When you arrive, however, you will find a mystery that will take you beyond explored space and a threat that no one expected.

Crouching Ty'Gokor Hidden Demon by Captain_Revo
Klingon Faction
The High Council has ordered you to investigate Ty'Gokor, one of the most heavily fortified installations in the Klingon Empire. Strange energy readings have been reported and must be investigated at once.
To play these Foundry missions, log onto a Federation or Klingon character, open your Mission Journal (J), click on 'Foundry' tab at the top, and then the 'Spotlight Missions' tab on the left.