By PWE_BranFlakes @ January 11, 2013 at 11:00am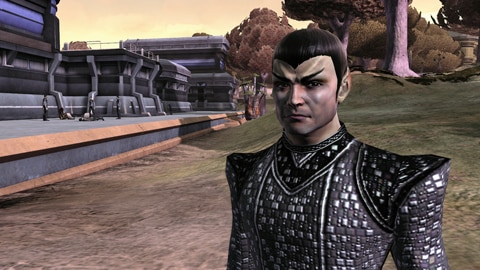 We have added more past spotlighted Foundry missions to the 'Spotlight Missions' archive in-game! Over the next couple of weeks, as past spotlighted authors continue to submit their mission for featuring in the in-game journal, we will be populating the archive with even more of your past favorites.
This week's additions include:

Betrayal of the Empire (Part 1) by Evil70th
Klingon Faction
Your old friend Worf needs to speak with you immediately. He believes there may be a link to a high ranking councilman in the High Council and the Romulans. Worf needs your help in uncovering the truth of a threat that could shake the Empire to its core. You owe him your life. Will you help your old friend now?

One Too Many by XR-377
Federation Faction
The daughter of "Reg" Barclay is working on Earth Spacedock tracking down a system's bug in the Station's Network. But, as can be expected, she has a problem one too many…

Spawn of Medusa by Duke-of-Rock
Federation Faction
You have been ordered to the Pi Canis sector immediately to rendezvous with Admiral Fedrikson on the U.S.S. Crazy Horse in the Seedea System. A Klingon acquaintance of yours has requested Federation assistance in a serious matter that could affect the quadrant.

Conjoined by DenizenVI
Federation Faction
A distant Federation world grapples with mysterious setbacks in their attempts to bridge the light-years between them and the heart of the Federation. Will you be able to figure out what's really going on out on the edge of unknown space?

The Fire In Which We Burn by Captain_Revo
Klingon Faction
A distress call sends you on a rescue mission to an obscure outpost, yet all is not what it first appears. Several factions now vie for control of the most precious resource in the universe. Time itself.

Another Man's Hell by CheRoj
Federation Faction
The Klingon Empire has been experiencing much trouble with the sudden appearance of the Fek'Ihri, the ancient soldiers of the tyrant Molor. But, the threat of the Fek'Ihri has not been confined to Klingon space. Now, Federation ships are sending reports of encounters with these sadistic, Klingon demons as well. Are these beings really the minions of a cruel tyrant that has been burning in Gre'thor for millennia? Or, is there another force at work wearing the face of Klingon mythology?

The Syndicate Extraction by Galactrix
Federation Faction
An operative with information about the Orion Syndicate needs to be extracted from a deep cover operation. Starfleet would like you to perform this task.

Unholy Alliances, Part I by soriedem
Federation Faction
A contact on Drozana Station has some disturbing information. A cadre of mercenaries, smugglers and pirates are selling crewmen as slave labor from several vessels they raided on the frontlines of the Klingon/Federation War.
To play these Foundry missions, log onto a Federation or Klingon character, open your Mission Journal (J), click on 'Foundry' tab at the top, and then the 'Spotlight Missions' tab on the left.