By PWE_BranFlakes @ January 31, 2013 at 10:00am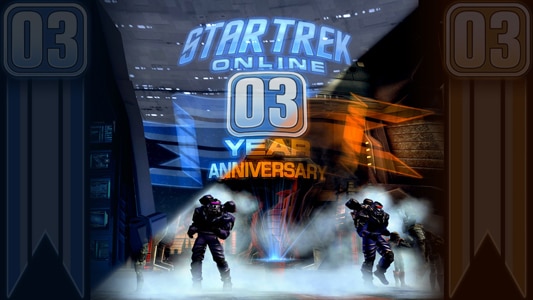 To celebrate our three-year anniversary, from now through 10am PST on Thursday, February 14th, Q is hosting parties and giving away prizes on Earth Spacedock and Qo'noS. Talk to Q each day and help him coordinate the guest list for the party and receive a fun reward for your efforts.
Additionally, we have released a special Feature Episode — "Temporal Ambassador" — that stars Denise Crosby reprising her role as Lieutenant Tasha Yar from Star Trek: The Next Generation. To play this mission, Level 6 Federation Lieutenants can speak with Engineer Kani on Earth Spacedock and Level 22 KDF Commanders can speak with Engineer Tum'Era on Qo'noS. You can also access it from your Mission Journal (default key "J").
Federation players who complete the mission will earn a Support Cruiser Starship – Ambassador Class (Tier 3), as well as a Support Cruiser Retrofit Starship – Ambassador Class (Tier 5), and Klingon players will be rewarded with a Battlecruiser Starship – Kamarag Class (Tier 3), along with a Battlecruiser Retrofit Starship – Kamarag Class (Tier 5). It's important to note that the Tier 5 Retrofits can only be earned by completing the mission during the three-year anniversary event, and the box that it is contained in can only be opened once the character reaches Rear Admiral (Fed) or Brigadier General (KDF) rank. Ship stats are available here.
Also, don't forget to check out our amazing Anniversary spotlight video for a look at just some of what players experienced in 2012 (and for a teaser of what's to come), and check out our brand-new infographic to see some incredible statistics about what has been accomplished thus far in Star Trek Online.
Thank you to all the fans that have made Star Trek Online such a great place to enjoy the universe of Star Trek over the past three years, and we're looking forward to many more years of exploring where no one has gone before. Happy anniversary and we'll see you in-game!