By PWE_BranFlakes @ March 1, 2013 at 11:00am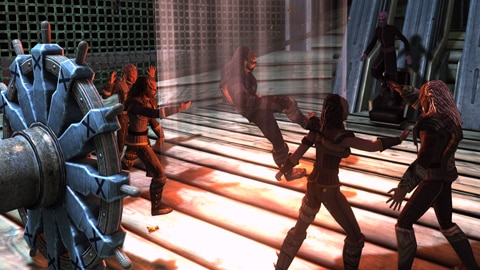 We have added more past spotlighted Foundry missions to the 'Spotlight Missions' archive in-game! Over the next couple of weeks, as past spotlighted authors continue to submit their mission for featuring in the in-game journal, we will be populating the archive with even more of your past favorites.
This week's additions include:

Dead Men Tell No Tales by Aavarius
Klingon Faction
A secret mission in the Kahless Expanse to save the Klingon homeworld from the Federation trickery where one human discovers that apparently it wasn't a good day to die. Journey to a realm out of time, out of space… and out of your mind!

Left to Die by Tiuz
Federation Faction
When there's no more room in hell, the dead beam back aboard. Your mission is to find the U.S.S. Romero, a ship that went missing while mapping the Badlands. As the story unfolds, you will learn of its gruesome fate.

Krios Falling by Alien_de_jour
Klingon Faction
In 2386, the Empire was forced to abandon Krios. Before leaving, the Klingon governor vowed the Empire would return and rule Krios again. Now, General Kern is asking you to help fulfill his ancestor's oath.
To play these Foundry missions, log onto a Klingon or Federation character, open your Mission Journal (J), click on 'Foundry' tab at the top, and then the 'Spotlight Missions' tab on the left.