By PWE_BranFlakes @ April 15, 2013 at 12:00pm
Trait System Revamp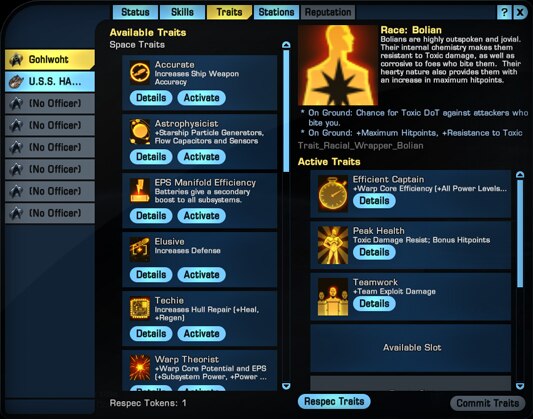 We're making a number of improvements to Star Trek Online's trait system in Legacy of Romulus. First and foremost, we want to create a system in which you feel like you can play any species you want to and still perform at a level competitive with any other species. Secondly, we want to stop asking you to make permanent choices about your character's gameplay abilities before you have played the character at all. Finally, we want the system to be expandable over time, so that we can continue to add new traits and you can continue use those new abilities to tweak builds and make new builds viable.
Changes to the Trait Philosophy
The new trait system is a deck-building system – we want you to feel that you have plenty of traits to choose from, and that building your deck of active traits is an important consideration in how your character plays. Do you like fighting in melee? Do you prefer space combat over ground? Maybe you need just a little more survivability, or a little more damage? No matter what your preference is, we want you to be able to choose your traits around it.
The new trait system also provides another source of consistent power growth as you move through ranks. As you rank up you can now develop your character's strengths, mastering more and more aspects of fleet command to enhance your performance as a captain. A new character will start the game with four trait slots and gain one new slot every rank, for a total of nine slots at level 50.
We also went through all the traits and worked to improve those which were previously lacking. We want all of the choices to be real choices – no trait should be seen as weak or not worth taking. We'll be constantly evaluating the relative balance of traits going forward.
Our new traits often use proc-based mechanics instead of flat skill and stat bonuses. For example, the new engineer trait "Grace Under Fire" refreshes the cooldown on their Miracle Worker when they're taking heavy damage, but they still have to use the power themselves. We've added twelve new traits, and we've spruced up old traits like Stubborn and Mental Discipline, which now allow you to break free from some control effects on-demand, or like Acute Senses and Limited Telepathy, which now provide you some protection against Flanking attacks.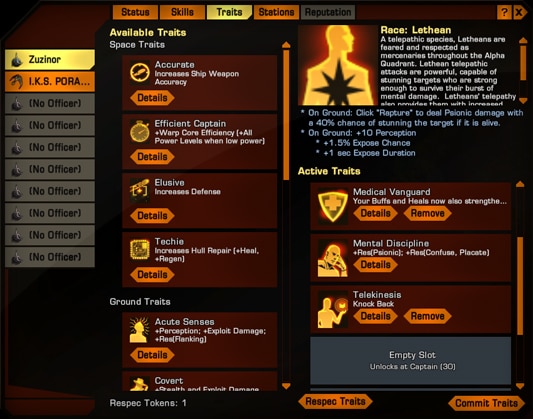 Racial Trait Equality and Balance
The largest inequality in the previous iteration of the trait system was the extent to which some species were limited in their competitive viability by their set of required traits. In order to fix this problem, we standardized all species-specific racial traits to only take up one trait slot. We had seen that many players were making Alien captains specifically for their trait flexibility, so we felt it was important to bridge the potential performance gap between Alien captains and their species-specific brethren. We wanted Aliens to maintain their emphasis on flexibility, but we wanted all other species to come closer to Alien potential maximum performance. We took two main steps to solve this problem – increasing the number of traits all characters could obtain throughout their career, and consolidating all required traits into a single racial required trait for all species that previously had two or three required traits.
Increasing the maximum number of traits available allows individual racial traits to be fairly potent, since they contribute less to the net overall power of the character. Increasing the pool of traits available to each species and standardizing the number of choices available to each species keeps all species competitive with each other. Alien captains still maintain the bonus of not having a racially required trait and therefore having the most flexibility in their trait choices, but that bonus no longer completely outclasses what the non-Alien species bring to the table. We feel it's important to allow people to play all of the different types of species they know and love from decades of Star Trek, rather than asking people to make a choice between playing a particular species or being optimally built for end-game content.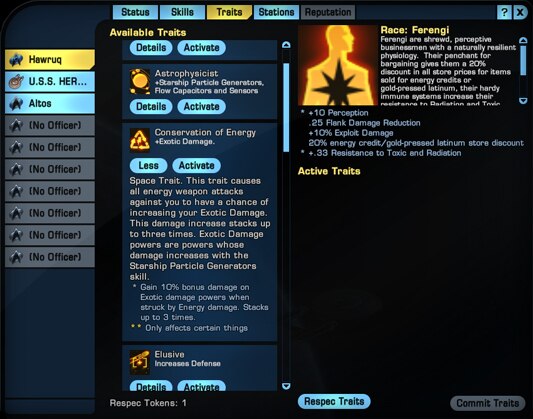 New Types of Traits: Class-Specific Traits
We also wanted to add some class-specific traits to add variety to trait choices and give players the opportunity to specialize in modes of play. These traits are about enhancing the powers and attributes that define the various classes, focused not necessarily on specific roles in combat, but on the abilities and playstyles that each given class is known for.
We created traits targeted at many different playstyles. We don't expect each class to take all the class-specific options, but hopefully at least one or two appeal to any given captain. Science captains have traits which support both debuff and healing playstyles. Engineer captains gain traits which support tanking and pet use, while Tactical captains gain traits which encourage them to be constantly embroiled in combat. As we develop more traits in the future, including more playstyles into class-specific traits is a likely avenue for expansion.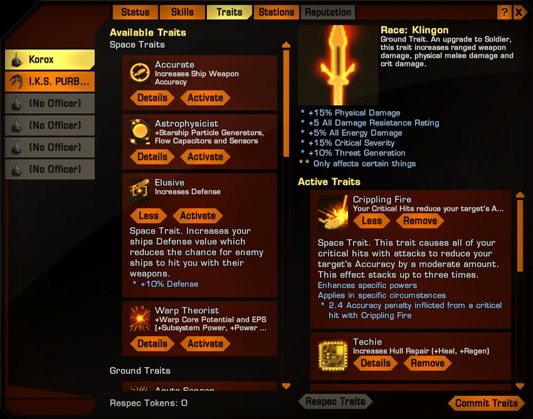 Conclusion
Change to old, familiar systems can be alarming, so we've gone to great lengths to ensure that existing characters receive only benefits from this change to the trait system. If you play a species which previously had two or more required traits, your old requirements have now been combined and take up only one of your nine trait slots. In addition, many old traits have been polished up to provide a more substantial bonus to your character's power level, and you'll be able to choose up to five more traits for your captain when you first log in to Legacy of Romulus.
With all the changes we're making to the trait system, all existing characters will be given a free trait respec when Legacy of Romulus goes live, and all newly made characters will start with one trait respec so that players can fully customize their traits after character creation. Additional trait respecs will be available in the C- Store, and Gold players will be able to purchase both trait and reputation respecs in the Dilithium Store at a discounted rate. We'll also be adding a bundle of skill, reputation, and trait respecs in the C- Store at a discount.
Ultimately, your captain's traits can now be more closely tailored to your playstyle, and you will hopefully never again feel like you missed out on a trait during character selection that you just can't take anymore. As we move forward, you'll see more additions to the trait system, both in standard traits and in class-specific traits, which will allow you to customize your captain even further. We also want to add traits that you can unlock via gameplay; whether that's for completing a certain episode series or for touring the galaxy, only the future will tell.
We hope you'll enjoy the modifications to the trait system, and can't wait to see you all putting them to good use when Legacy of Romulus launches this May. See you in-game!
Jeff "AdjudicatorHawk" Hamilton
Systems Designer
Star Trek Online
Legacy of Romulus News Dev Blog Index