Nimbus Adventure Zone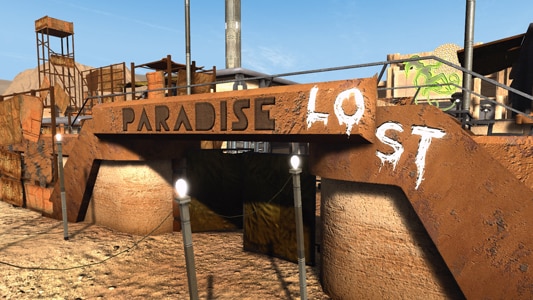 Paradise City, the central hub of Nimbus
Nimbus III was established as a "Planet of Galactic Peace" in 2267. It was supposed to be a planet that Federation, Klingons, and Romulans worked together to develop. However, the planet was inhospitable, and the colonists chosen to develop it were some of the worst individuals in the galaxy. The project was eventually abandoned, and Nimbus became a lawless planet.
Present day, more than 140 years later, Nimbus has become a planet of crime run by Hassan the Undying, the Orion Syndicate's second in command. The people of Paradise City are either fugitives or too poor to leave the planet. The planet is a lawless wasteland, where those who are strong rule from Hassan's stronghold, and the weak live in Paradise City, making money off of trading small time illegal goods. No one has the strength to fight back against the Orions.
All of that is about to change. There are reports that Thalaron Triggers, an essential component for Thalaron weapons large enough to wipe out the population of an entire planet, are being sold by the Orion Syndicate on Nimbus. There are also reports of Tal Shiar agents spotted on the ground. All of this information comes from an informant in Paradise City named Horace Jones.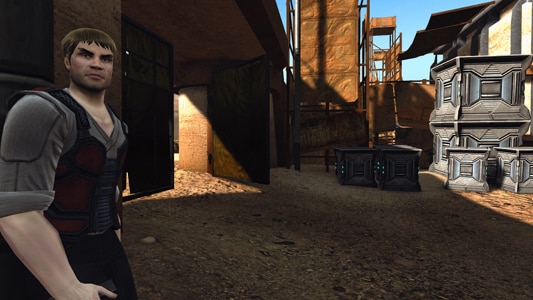 Horace Jones, a descendant of Cyrano Jones
Federation, Klingon, and Romulan players will be sent to Nimbus to track down the Thalaron Triggers and discover what other secrets lurk within Nimbus…
What is Nimbus?
Nimbus III is a level 21 to 25 Adventure Zone that players of all factions can access at any time after level 19. Players will be able to bring their full away team down to the planet, but the away team will not be present while you are within Paradise City. High level players will have their level automatically adjusted to 26 when they beam down to Nimbus.
What is there to do in Nimbus?
There is an episode series, "Wasteland", which takes primarily on Nimbus. This episode series will take you all over Nimbus, from the run-down Paradise City, to the destroyed ship acting as an Orion Stronghold, to the canyon filled with Gorn working on a mysterious project.
There are also open missions that are triggered by player activity in several areas. Nausicaans working for the Orions can be found bullying the populace of Paradise City. Players can go near the bullies to drive them away. Eventually, the Nausicaans will become angry and hold some of the Nimbosians hostage outside of town in a show of force! This is just one of several open missions that players will run into on Nimbus.
What else is there to do after the episode series?
Every open mission on the map has an accolade rewarded upon completion. There also are exploration and other miscellaneous accolades throughout the zone (watch out for the Gorn rock throwers!).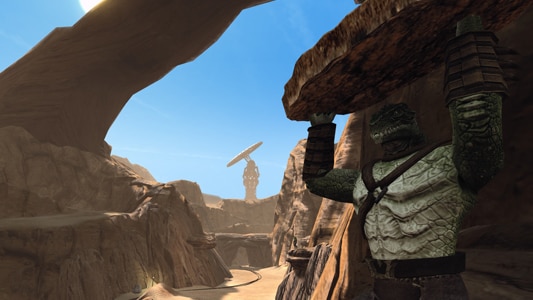 This rock will be aimed at you!
There are also daily missions that players can do around Paradise City. These missions will reward Dilithium Ore; one in particular will reward the player more Dilithium based on how well they perform in the mission.
Finally, for players who are looking to show off their dance moves, there is a daily dance competition located inside of the bar of Paradise City. Successfully completing the mission four times will reward players the fan dance emote!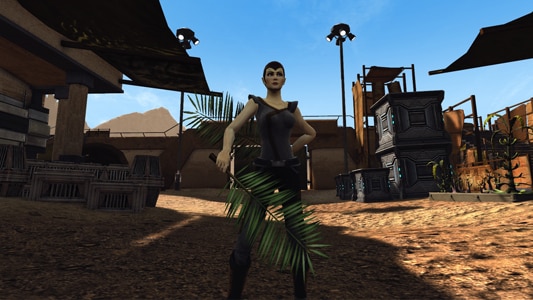 The Fan Dance
Nimbus is filled with many other small details – for example, you can talk to specific civilians on the street by clicking on them, and they will say different things depending on what missions you have completed. Make sure to keep your eyes open for other details waiting to be found!
Nimbus III will be available for all factions to play at the launch of Legacy of Romulus next week. We can't wait for you all to jump in and see what we've done for our latest adventure zone!
Sean "Commander Ander" McCann
Content Designer
Star Trek Online
Legacy of Romulus News Dev Blog Index
- – - – -
Click here to learn more about Legacy of Romulus, our upcoming free-to-play expansion for Star Trek Online. Prepare for your journey of rebuilding the Romulan legacy with a Legacy Pack purchase! Click on the logo below to learn more about it.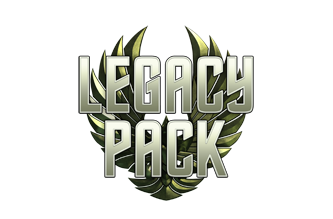 Want more game details, screens, and videos? Like Star Trek Online on Facebook for more exclusive content and follow us on Twitter – tweet us your questions! And, subscribe to our YouTube channel for the latest Star Trek Online videos.
- – - – -