By PWE_BranFlakes @ August 1, 2013 at 2:00pm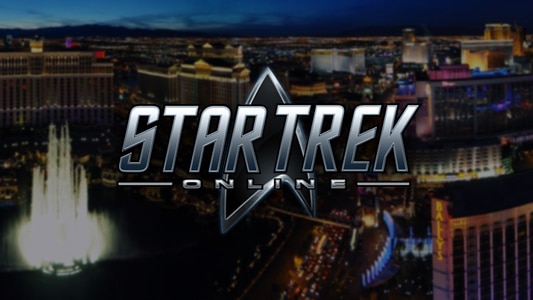 Star Trek Online will be out in full force next week at Creation Entertainment's 2013 Star Trek Las Vegas (STLV) convention in Las Vegas, Nevada!
From next Thursday through Sunday (August 8-11, 2013), Star Trek fans of all ages will experience the world's largest and most popular Star Trek convention at the Rio All Suites Hotel. Special guests include William Shatner, Avery Brooks, Kate Mulgrew, George Takei, Jonathan Frakes, Denise Crosby and dozens more. Tickets are still available for purchase here, including single-day and weekend passes, and the Rio still has a few rooms available. If you're planning on beaming up to STLV this year, make your arrangements soon as hotel rooms and most tickets will sell out. The official convention schedule can be found here.
Can't make it to Vegas this year? Trek Radio and @StarTrek will be providing coverage throughout the event!
If you are attending, here is some information about STO's presence:
Developer Panel
Massively and Trek Radio are hosting a Q&A panel session with the STO Devs on Saturday, August 10th, 2013 at 11:50AM in the spacious DeForest Kelley theatre. Panelists include Executive Producer Daniel Stahl, Lead Designer Al "CaptainGeko" Rivera, UI Artist Thomas "TheCrypticCat" Marrone, and Community Manager Brandon "BranFlakes" Felczer. Anyone with Saturday convention tickets will be able to attend. More information about the panel can be found here.
The Empress Returns
The incredibly talented Denise Crosby joins STO Lead Designer Al "CaptainGeko" Rivera and Community Manager Brandon "BranFlakes" Felczer on stage to talk about her role as Empress Sela in Legacy of Romulus. The panel is on Friday, August 9th, 2013 at 5:20pm in the main auditorium. Anyone with Friday convention tickets will be able to attend.
Meet the Devs
Massively, Trek Radio, STOked Radio, and Priority One Podcast will be hosting a "Hangin' with the Devs" event on Saturday, August 10th, 2013 from 5PM to 7PM PDT at the iBar in the Rio Hotel and Casino. If you are 21 years of age or older, in the Las Vegas area and would like to spend a couple of hours talking with some of the developers behind STO, stop by! This is a drop-in/ drop-out event and you can stay for as little or as long as you'd like. Attendees are responsible for their own food and beverages. More information about this event can be found here.
Win Weekend Tickets
We are giving away several General Admission Weekend tickets** for next week's convention via our homepage, Twitter feed and Facebook page! Rules and restrictions apply*. Full details can be found here.
Holo-Leeta Duty Officer and "Convention Veteran" Title
To celebrate this awesome event, the Star Trek Online team is pleased to offer a special in-game item to attendees that, once claimed and opened, contains a unique Holo-Leeta Duty Officer and "Convention Veteran" title for all characters on their account! You can obtain a code for this special item by acquiring a flyer from a member of the STO team – they will be passing them out in the Vendor's Room throughout the convention.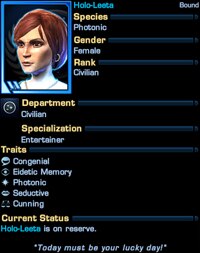 If you have any other questions about the convention or the events listed above, click on the link below to the forum thread and post them there — we'll be checking in often and answering them over the next couple days.
We hope to see you in Vegas!
- – - – -
Click here to learn more about Legacy of Romulus, our free-to-play expansion for Star Trek Online. Advance your journey of rebuilding the Romulan legacy with a Legacy Pack purchase! Click on the logo below to learn more about it.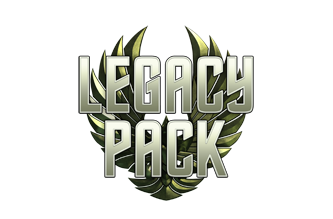 Want more game details, screens, and videos? Like Star Trek Online on Facebook for more exclusive content and follow us on Twitter – tweet us your questions! And, subscribe to our YouTube channel for the latest Star Trek Online videos.
- – - – -